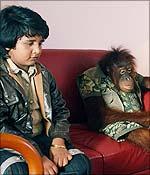 Shruti Indira Lakshminarayana reviews the Kannada film, Appu Pappu.

'Little Star' Snehit is out to entertain Kannada film-goers in Ananth Raju Kannada film Appu Pappu. Snehit's father and producer Soundarya Jagdeesh of Mast Maja Maadi fame has spent lavishly on this feel good multi-starrer.

Appu (Snehit) lives with his mother (Rekha) and grandfather. As he grows up, the lad wants to unite his mother with his father who stays in Cambodia. After convincing his mother to take him to Cambodia, Appu along with the help of Pappu, an orangutan which came to steal his toy, tries to get his parents together. And with the help of a local acquaintance (Rangayana Raghu) all was going as planned until Appu gets kidnapped.

Snehit puts up a lively performance. His act gets better with the entry of the spirited orangutan. There are a few scenes that will take you back to Dunston Checks In and Home Alone but that won't stop children from enjoying the antics of Appu and Pappu. A song in which the animal has matched steps with Snehit will surely please the young audience. Graphics have also been used in this song.

Rangayana Raghu livens up the screen as well. Komal, who plays animal's trainer is seen in a negative role in the film. While his performance is mediocre in most bits, he outshines the rest in the climax. Raju Thalikote is okay. Jeniffer Kotwal makes a friendly appearance. Though Rekha and Abbas have little to do, they come out with neat performances.

The film makers do get a bit carried away at places while trying to establish the heroisms of Snehit. For instance the young actor is seen bashing up a school baddy in his introductory scene. This being a children's film, the violent sequence could have been avoided. Certain provocative scenes involving the second lead heroine could also have been easily given a skip.

Appu Pappu speaks of the importance of family values and ties on one hand, and animal welfare and protection on the other. A good outing for the kids.
Rediff Rating: