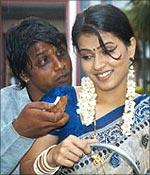 Shruti Indira Lakshminarayana reviews the Kannada film Kari Chirate.
Kannada film Kari Chirate was among the most anticipated films of the year, not just because it was a Vijay starrer, but also because Maadesh, known for his remakes, was directing an original script. But there was nothing new in the story.
Madha (Vijay) is a marketing agent, who aspires to start his own business. He opens a travel agency along with friends, but hits a roadblock after he rubs a corrupt politician the wrong way. Supporting his friend Bharti's (Yagna Shetty) fight against injustice leads him to take on the politician. When it's a Vijay film, there are no prizes for guessing if Madha will be able to single-handedly fight the money and muscle power!
The first half is a painful drag. Dialogues that preach commitment to work, family, fellow beings and the way women should conduct themselves add to the agony. Lack of emotions between the hero and his mother -- who dominate the first half -- is the other minus point.
Amidst all these negatives, it is Rangayana Raghu who manages to entertain the crowd. His character is based on politician Renukacharya, who was in news for his affair with nurse Jayalakshmi.
Post interval, Vijay takes over. He is seen playing a mentally disturbed person and in most scenes proves his talent. He is particularly good in fight sequences and has even crooned an entertaining song, Idli vade. In fact, you'll find yourself looking forward to just the fights and the songs in the film after a while. They are refreshing.
Leading ladies Sharmila Mandre and Shetty have little scope for acting. The actresses do a role reversal for this film. While Sharmila sheds her glamorous image and plays a pativrata naari, Yagna hopes to bring out her oomph factor. She had proved her mettle in Edelu Manjunatha and Sugreeva, but fails to impress this time. Sudha Belavadi, who has time and again come out with good performances, also falters.
Kari Chirate could have been an ideal mass entertainer, but fails.
Rediff Rating: