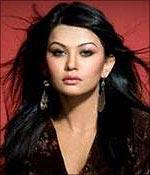 S
akshi Pradhan,
who survived a
pregnancy scare
on
Bigg Boss
, was evicted from the show last week.
The youngster is happy that she is out of the house, as she gets to be with her family during the festive season.
She talks to
Rajul Hegde
about her stint in the house.
Did you expect to get eliminated?
No. I am a bit sad to leave the house because I wanted to win Bigg Boss. But I am glad that I did not hide behind a mask; people saw the real me. It was like a paid holiday -- we would play dumb charades, chat for hours and have loads of fun. Given a chance, I would love to be back as a wild card entry.
But you didn't get along with Hrishant Goswami.
We had our fights but I don't hate anyone. At the end of the day, it's just a game and you have to play well.
But I must say Hrishant is over smart, rude and doesn't know how to speak to girls. 
There were a lot of issues with you not working in the house.

I used to do my work but people just needed a reason to point fingers at me.
You nominated Begum Nawazish Ali before you left the house. Is it because she had nominated you?
Yes, I picked Begum only because she had nominated me (smiles). To be honest, I don't have bad feelings for anyone in the house.
What do you have to say about Shiv Sena's demand to remove the Pakistani artistes from the show?
So what if they are from Pakistan? Both of them are nice. But Veena Mallik is little crazy because she likes to show off her clothes. 
Who is the shrewdest person in the house?
Sameer Soni. But I wouldn't call him shrewd. He is intelligent, diplomatic and has a very good chance of winning the title.
Which were your best moments in the house?
People do not think of me as a spiritual person because I have done a reality show like Splitsvilla. But I believe in karma and meditation so I loved Shakti de bhakti de.
Did you make friends?
Yes. Manoj Tiwari is like my brother. I got along well with Sara Khan because we are of same age. But of course, she hasn't revealed her exact side yet. Her mask will come off soon.
There were rumours about you being pregnant.

There is nothing like that. I had seen a doctor to take medicines for a stomachache. Thankfully, it was solved.
What do you have to say about wrestler Great Khali's entry into the house?
It will be real fun. Now everyone will get exhausted making food for him (laughs).
Are you looking forward to more reality shows?
I don't want to do any more reality shows. I did Bigg Boss only because it is one of the biggest reality shows.
Will you do films?
Yes. I am playing a parallel lead in a film. But I can't talk about it.