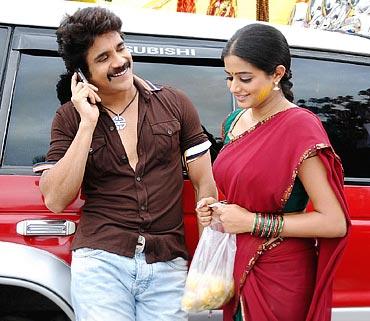 Nagarjuna Akkineni is doing two Telugu films this year -- Gaganam and Ragada. The latter is being produced by Siva Prasad Reddy (Under Kamakshi Kala movies banner) and directed by Veeru Potla, a writer whose directorial debut was Bindaas early this year.

Nagarjuna is cast opposite two heroines -- Anushka and Priyamani. Charmee will also be seen in a cameo.

Ragada is not to be confused with ragada patties or ragada samosa, the most popular dishes. At a press meet Nagarjuna said: "I came to know Ragada means godava (fight) but Ragada is a kind of entertainer like Hello Brother and Allari Alludu. I am doing the role of a man who runs a market yard in Kadapa. My dialogue delivery will be in Rayalaseema dialect."

 After seeing Bindaas, Nag seem to have been impressed with Veeru Potla and okayed him as a director.

The unit is now going to Petra in Jordan to shoot. "I am excited to shoot in Petra as it was announced as the eighth wonder of the world," said Nag.
Ragada will be shot in New Zealand in November, announced the producer Shiva Prasad Reddy.

Thaman S scores the music for this film. Sarvesh Murari handles the camera and Marthand K Venkatesh is the editor.
The film is slated for a December release as it's one of Nag's favourite months. Quite a few of his successful films like Manmadhudu, Don, Mass, King have released in that month.