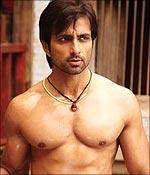 Sonu Sood's career seems to be getting a lift.


After starring in the blockbuster Dabangg, the actor has been offered a significant role in Crouching Tiger Hidden Dragon director Ang Lee's next film on Yann Martel's Booker prize-winning novel, Life of Pi.

The actor talks to Ufaque Paiker about his twist of fate.

Do you think a break in Hollywood would give a break to your career?

I think it's going to be a great experience. It gives you an opportunity to meet with different people from different backgrounds. It's not confirmed yet; the talks are still on. But I'm happy about it.
Why do you think you were short-listed for the role?
I don't know. I did a movie called City Of Life. It was well-received in the Middle East.
It was a great feeling to be offered this role. For someone who comes from a non-filmi background, when people appreciate you, it feels nice that you don't need a flimi background to prove yourself.
Ang Lee was very humble and nice to talk to. I've seen all his films.
How do feel about the huge Dabangg success?
It feels great when your efforts are rewarded. When you have been working for a year and a half and it pays well, it feels nice.
The experience with the unit was very nice. Salman is a fitness freak, like me. So we bonded well on the sets. I have found a great friend in him.