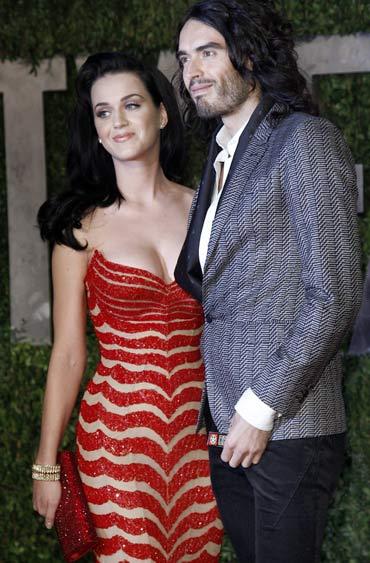 Katy Perry and Russell Brand finally landed in India [ Images ] on Wednesday -- the bride-to-be was seen trying to hide the traditional "Nath" jewellery under a blanket as she and Russell waited at Mumbai [ Images ] airport for a flight to Jaipur [ Images ].

From there the pair had a three-hour drive to the luxury Arman-I-Khas desert "wilderness" resort.

Hours earlier, Katy's parents, Keith and Mary Hudson, arrived at the complex, where guests sleep in 600 pounds-a-night tents.

Celeb pals Jonathan Ross, David Walliams and Rihanna [ Images ] were due to arrive on Wednesday night.

Sources claimed the couple on Wednesday night asked for a Hindu priest to bless them "in true Indian style".

There will be four days of celebrations ahead of the wedding, including a tiger safari and feast.

Russell, 35, proposed to Katy, 25, at Jaipur's Rambagh Palace, but sources say they'll wed at the resort.

Katy has asked pals not to reveal her wedding plans.

'The greatest gift u can give us is respect & love during this private (time),' the Sun quoted her as tweeting.