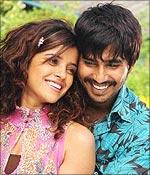 Pavithra Srinivasan reviews the Tamil film, Bale Pandiya.
"Don't worry; be happy," goes the tagline of AGS Entertainment's latest comedy venture, Bale Pandiya (the name taken from yesteryear Sivaji Ganesan comedy), directed by debutant Siddharth Chandrasekar.
Obviously, the whole team has taken the motto to heart and tried to deliver a laugh out loud entertainer that's easy on the eyes as well. To give them credit, the film does work at certain points. At others, it falls flat.
The first hour, at any rate, works very well. Pandiyan (Vishnu) is a young man whose luck is permanently down and out. Nothing and no one can get a sliver of good fortune in his life; he's the proverbial wet rag for whom everything goes wrong. Accidents rain down on his neighbours when he's in the vicinity; cookers blow up in kitchens, hoardings crash down; the girl he loves ends up falling for someone else; even his shop (and only his) is royally bull-dozed to build a flyover. Desperate, Pandiyan approaches a well-known dada AKP and offers him money -- to kill him. An aghast AKP demands why Pandiyan would wish to kill himself, upon which the hapless lad relates his sob-story.
In a flash of generosity, AKP decides to kills two birds with a stone: Pandiyan shall enjoy himself to the hilt with a sum of Rs 25 lakhs but upon the end of a certain period, he has to blow himself as a human bomb. A vastly satisfactory agreement to both parties.
Soundarrajan's cinematography and the antics of a competent SFX team make sure that all these sections are handled dexterously. Happy, set to Devan Ekambaram's music, is a delightful, almost music-album like rendition, picturized with almost all the singers who actually are part of the song. Equally interesting is Sirikkiren (with shades of the old hit from the original Bale Pandiya itself).
Pandiyan, intent on enjoying himself, sends his family into a tizzy with wealth, meets a perky, peppy young girl Vaishnavi (Piaa) who obligingly falls for him; the two sing a couple of melodious duets (such as Kankale Kamalalayam) on sandy beaches abroad. And then disaster strikes, with a new host of villains, headed by the ominous Kachitham (Gibran Osman).
From hereon, the rather cleverly stitched together screenplay, which has a tendency towards spoofing (much like Tamizh Padam, with software companies like Poojyum Software Inc), and genuinely laugh-out-loud moments, begins to degenerate. It's almost as though the director, having played to his instincts in the first half, suddenly decided that his protagonist was actually a hero, and needed to flex his muscles.
Accordingly, Pandiyan suddenly beats up Terminator-like villains to a pulp, even as said villains suddenly exhibit tendencies towards extreme stupidity (they actually kidnap the heroine and let her have her cell-phone). If this too was meant as a spoof, there's no evidence of any humour; the sequences are extremely serious.
All the sequences with Vivek (as London, with a hideous wig in tow) are ridiculous, and don't fit in with the tone of the film at all. What was the need for this track, when the original itself is comical enough? Vivek's accent is irritating as well. Looks like he's run out of inspiration.
Vishnu returns to the silver screen after a refreshing debut in Vennila Kabaddi Kuzhu, and shows promise as the frustrated young man with no will to live. His dialogues need some modulation, though.  Piaa has little to do except wear pretty dresses and smile but she does light up the screen. The villains are a hilarious bunch (intentionally and otherwise); Jayaprakash, in a tiny role, is wasted.
The technical crew has done a great job which is only to be expected. The cinematography has a candy-floss feel to it, in keeping with the tone of the film; the editing is neat. One particular stunt sequence is intriguing: the one which doesn't involve a single piece of furniture being displaced!
Sidharth Chandrasekar's debut film hits the right note at certain places, and it certainly has its funny moments. If it had sustained that momentum in the second half, Bale Pandiya would have been even better.
Rediff Rating: