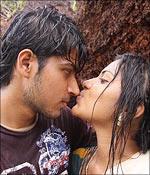 Pavithra Srinivasan reviews the Tamil film Sindhu Samaveli
Director Sami is one of those directors who repeatedly go for the jugular, attacking shocking plots with a delicacy that is rare in Tamil cinema. The results might be a bit murky, but there's no doubt that he manages to ram the point home.
After the controversial Uyir and Mirugam, Global Infortainment's Sindhu Samaveli shows him picking up yet another complicated plot-point: Illicit relationships. The movie is an inspired version of Ivan Turgenev's short story, First Love.
At first, there's no inkling of what the director is trying to achieve, and that sets the tone. Young Anbu (Harish Kalyan) wades out of the sea (meant to be in Kanyakumari, but set in Kerala), his head shaven, as the camera moves stealthily around the lush, hilly countryside. As he sits beneath a mango tree, which he believes holds the spirit of his dead mother, memories crash into him like the waves on the shore.
Cue for a flashback: Anbu is a happy teenager in school, where his mother is a well-loved teacher. His father, Veerasami (Gajini), is an army-man stationed in Assam. He has spent a good deal of Anbu's life in the barracks, so he welcomes the opportunity to re-unite with his family when a leg injury puts him out of commission.
Meanwhile, Anbu is attracted to one of his classmates, Sundari (Anakha). The two find each other fascinating, but nothing much comes out of it. Anbu completes his Std XII and leaves school.
Life in Anbu's household is happy. Veerasami, back home after years, makes the most of home life and for a while, paradise reigns. Then, disaster strikes. Anbu's mother dies of a snake bite and suddenly, father and son are bereft of her anchoring presence. They pick up the pieces and continue with their strangely empty lives until Veerasami discovers that Anbu and Sundari still cherish feelings for each other, even though they no longer see each other frequently. Veerasami decides that they should get married.
Till this point, the story is just like any other family tale. But once Anbu leaves for his teacher's training course, things get ominous. Veerasami finds himself forced to confront his own inappropriate feelings for his daughter-in-law, but what's even more astonishing is the way she confronts them.
Director Sami has walked a tightrope with this one: A theme like this naturally lends itself to sleaze, cheap gimmicks and could have degenerated into erotic antics. It doesn't. Score one for the director. He steers you towards the emotional entanglements of what happens when a third party enters a marriage. You might squirm at the way the characters behave. That he gets his viewers to react thus is a sign of his success.
This isn't to say that the screenplay is flawless. There are moments when the acting is chop-change, and events move too quickly for their impact to sink in. At some points, events are too subtle, at others, the opposite.
Harish Kalyan and Gajini are adequate, but it's Anakha, who carries the film. In a way, this film is all about her, and it's heartening to see her do full justice to it. She's a large part of why the emotional drama works.
There's a comedy track with Ganja Karuppu at its centre and it mars the proceedings of an otherwise serious story.
Thotta Tharani's sets bring a touch of realism to the proceedings. Sundar C Babu's music doesn't have much impact, but Sabesh-Murali's background score is quite chilling (even if a trifle loud). The cinematography works.
There might be a few hiccups, but Sindhu Samaveli presents a solid, real issue with all its sharpness and intensity intact. It deserves a watch.
A word of caution though: this movie is certainly not meant for family audiences.
Rediff Rating: