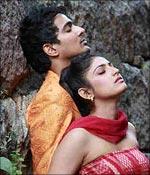 Radhika Rajamani reviews the Telugu film Thakita Thakita
Thakita Thakita is an interesting title for a film on friendships, love and life. Just as there are highs and lows in rhythm, there are ups and downs in life, more so for youngsters. And that is what director Srihari Nanu portrays in this Telugu film.
As the tagline -- love, laughter and tears -- suggests, there's fun, frolic, and gloom in Thakita Thakita. Actress Bhumika Chawla and her husband, yoga guru Bharat Thakur, who turn producers with this film, have ensured that there is enough entertainment interspersed with good music by Bebo Sashi (a debutant music composer).
Thakita Thakita is a tale of eight youngsters, most of them debutants. Nagarjuna Akkineni (in a guest role) introduces the characters while sitting in a park -- Sridhar or Sri (Harshvardhan Rane), Chandana (Haripriya), Skud, Jessica (Eva Ellis), Mahesh (Trinethrudu), Bhakti (Bhakti), Kishore, Nandini (Aditi). Jessica is a foreign student, who has come on an exchange programme.
The film begins at the juncture when they finish college and are looking for jobs. In the first half, one gets to know each of them, their families and how each of them are in love. These friends meet Anushka (who appears for a few minutes). Chawla plays a teacher, who guides them.
It is in the second half that the film actually narrates what the director wants to say. Sri loves Chandana, but there is an incident in the past that affects their lives today. Each of the other pairs also has issues, either between themselves or due to their parents. Do the love stories succeed?
The film progresses through happy, melancholy times before reaching an end laced with a message.
The director could have ensured a crisper first half with less confusion and better editing.
Harsh is apt for his role; He displays the earnestness and sincerity needed for the role. He does a good job and shows the potential to hone his skills with good scripts. Haripriya looks glamorous and has performed well. They make a good lead pair.
Trinethrudu also makes an impact. The others debutants do their bits well. The late Cochin Haneefa (who died when the movie was being made) fits the role of the father well.
Senthil Kumar's camera work is good, especially in the songs (Ishq hai yeh, which is shot against picturesque locales of Himachal Pradesh). Sashi should be commended for providing music that is quite different. His tunes are melodious, and one of the film's highlights.
Chawla and Bharat have started their production career with a youthful film with high production values. There is nothing drastically different in Thakita Thakita, but it is refreshing because of the new faces, good music and cinematography.
Rediff Rating: