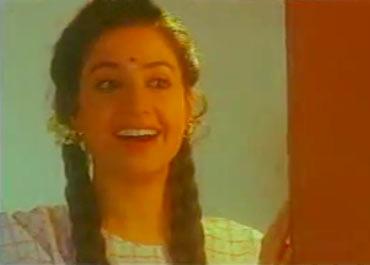 We asked readers to send us Bollywood bloopers that they have spotted.

Reader Archana Murdeshwar shares with us a blooper that she spotted in Tere Mere Sapne.
In the film, Priya Gill is pursuing her Bachelor's degree in Arts. But she is shown standing at the bus stop, carrying an electrical technology thesis by B L Theraja.

What an electrifying interest!
Have you spotted any Bollywood bloopers recently?
Tell us about your favourite and funniest! Keep the Bollywood bloopers coming, guys!
Also Read: Aamir travels by auto in South Mumbai!
Naseeb's car chase gone wrong!
The howler in Dhoom 2
Aati Kya Khandala? Wrong song, AB!
Aamir: Not always a perfectionist!
Kuch Kuch goof up hota hai!
What is the secret of Ajay Devgn, Kangna's youthfulness?
The glaring goof-up in 3 Idiots
When Salman broke his commitment
When Aamir went wrong!
Ash-Salman's big mistake!
When Big B, Aamir goofed up!
Aamir Khan goofed up in Jo Jeeta Wohi Sikander
Bollywood's movie bloopers