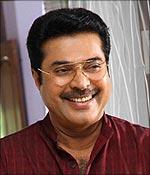 Paresh C Palicha reviews Pranchiyettan and the Saint


Once in a while along comes a movie that makes your spirits soar and helps you forget the mediocrity that this medium often serves. That is does it without seeking recourse to any manipulative tools, that we are all too familiar with, makes is even more remarkable. It solely depends on unalloyed storytelling skills.


Director Ranjith's latest offering Pranchiyettan and the Saint, starring Mammootty, is one such effort where the viewer is drawn into the story to experience the sheer joy of it. This film just tells the story of a rich but uncouth simpleton, C. Francis -- popularly known as Pranchiyettan. As his family has been into rice business, he is also known by a nickname Aripranchi, and this pains him.


So, he makes serious efforts to get rid of the nickname -- and his efforts include diversifying into other businesses and supporting worthy charitable causes. But, as fate would have it, the nickname that has troubled him since school days, never leaves him.
Even the efforts that he makes are hilarious: one of them is starting a jewellery shop, contesting the elections for the president-ship of an aristocratic cultural club of the city, and even buying a Padmasri award for himself.
The brain behind all these efforts is his friend Vasu Menon (Innocent).
The story takes a turn when he meets  a female artist by the name of Padmasri (Priyamani) who wants Pranchi to inaugurate her painting exhibition, the proceeds of which are to go to charity. His name has been suggested to her by his childhood flame Omana (Kushboo). He had lost Omana to his arch rival Jose (Siddique), who is a reputed doctor now.
What works for the narrative of this film is the simple humour, which is continued till the fag end of the film. Initially Mammootty is ably supported by Innocent and Tini Tom in the comedic portions of the film. In the latter half the responsibility falls on Priyamani to support him.
Another twist that gives some depth to the story is when Pranchi takes the responsibility of a wayward teenager Pauli (Master Ganapathi) to help him clear his tenth class board exams at the behest of his school principal, played by Sivaji Guruvayur.
The film depends heavily on Mammootty's  histrionic skills to be convincing and it works.  It is this effortless and natural performance that gives Pranchiyettan the lifeblood.
Mammootty as an actor has resorted to slapstick comedy to prove his credentials too, but in this film it is quite different -- the middle aged character that he plays here possesses a natural sense of humour and does not require any help in the form of slapstick situations.
Among the  supporting cast, Innocent gives ample support to Mammootty in keeping our attention rivetted to the screen. It has been a long time since he has portrayed such a character, but here he gets a chance to bring back the memories of vintage Innocent that we fondly remember.
Priyamani may not have much screen time for a leading lady but her performance will remain etched in viewers' memory. 
On the whole, the success of Pranchiyettan and the Saint rests on the shoulders of writer director Ranjith who gives a meaty story to actors to dig their teeth into. It is the near flawless script and direction that give  this simple and straight forward narrative multiple dimensions.
Rediff Rating: