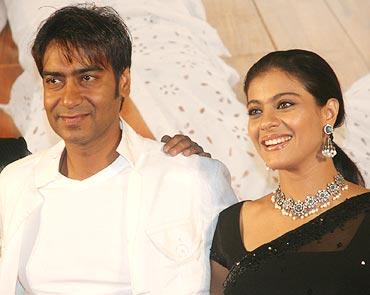 Bollywood couple Kajol and Ajay Devgn on Monday became proud parents of a baby boy.
The actress delivered her second child on Monday morning around 9.20 am at Mumbai's Lilavati Hospital. Sources close to the couple said the mother and the baby were doing fine. Nysa, the couple's elder child is seven years old.
Good wishes poured in from B-town for the star couple on the arrival of their second child. Director Madhur Bhandarkar who is directing Ajay in Dil To Baccha Hai Ji tweeted, "Congratulations Ajay & Kajol on the birth of your baby boy. Ganpati baapa moraya..."
Shah Rukh Khan, Kajol's good friend and co-star in many hit movies, wrote, "Bringing life on earth is the most beautiful gift of God. Allah bless Ajay & Kajol with happiness & health...Son of a Devgn... Wow masha allah."
Priyanka Chopra too congratulated the couple., "It's amazing when a new life comes into the world. "Congrats Ajay and kajol on the birth of ur baby boy," she tweeted.
Riteish Deshmukh said, "Congratulations Ajay & Kajol -- a baby boy arrives."
The year has been professionally heartening for the Devgn couple. Kajol's film My Name is Khan earlier this year did well at the box office and her latest We are Family brought her accolades, while Ajay is basking in the success of his latest film Once upon a time in Mumbaai.