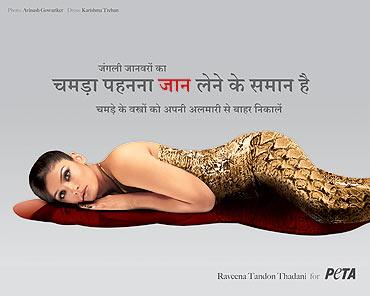 Raveena Tandon-Thadani is spotted in an eye-catching new ad for People for the Ethical Treatment of Animals (PETA) India ahead of the Lakme Fashion Week being held from September 17-21.
In the ad, the ravishing Mohra star wears a slinky outfit that resembles snakeskin while lying in a pool of "blood" under the words, "Wearing Exotic Skins Kills. Leave Wildlife Out of Your Wardrobe".
Raveena's outfit was designed by Karishma Trehan, and the ad was shot by ace photographer Avinash Gowariker.
By appearing in the ad, Raveena want consumers to know about the suffering that snakes, alligators and other exotic animals endure before their skins are made into shoes, bags and other products.
Snakes are commonly nailed to trees or posts and skinned alive. After animals' mutilated bodies are discarded, it can take hours for them to die. Alligators on factory farms are crammed into small spaces and then beaten to death with hammers or axes.
"Wearing shoes, clothes and other accessories made out of exotic skin is about as cold-blooded as it gets", says the actress. "These days, there's a wild kingdom of fake snake, mock croc and python pleather that pay tribute to the beauty of these animals without making them fashion victims."
Raveena joins a growing list of stars including John Abraham, Pamela Anderson, Sir Paul McCartney and Jackie Chan, who have taken part in campaigns for PETA to help animals.