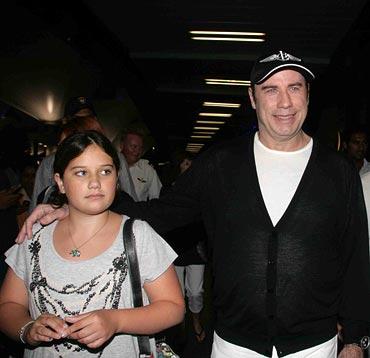 Hollywood actor John Travolta, who is on a two-day visit to India, said that he was excited to be in India and glad to have availed this opportunity.

"Things are wonderful in India, and as I said earlier, I feel very welcome here and it's a very warm feeling, feeling a family. And, I even brought my family because I think everyone wants to come to India, except that you wait for the special invitation, you wait for a special opportunity and I just feel that finally I have this chance to be here and it's very exciting," said Travolta.

Travolta further added that the impression of Bollywood industry in front of the world is crucial, as it has got very talented filmmakers.

"You know the impression of Bollywood is you have an industry here which has very important filmmakers and very important contribution to the film, the world of films. So, I feel that it's also comfortable because my industry is here as well," said Travolta.

Travolta, who flew down to India in his private jet, was accompanied by his daughter Ella.
Later, he made an appearance at an award function.