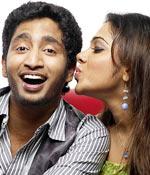 Sri Vaaru Films' Tamil film Odippolama? (Shall We Elope?) is a throwback to romantic movies that used to haunt Tamil cinema until a few years ago before commercial entertainers and realistic movies took over.
Directed by Kanmani, Odippolama? does make for some feel-good viewing.
The movie starts on a light-hearted note: Visu (Parimal), a computer science student walks with his head inside his textbooks through the credits, to much merry accompaniment by his friends (led by Suman Shetty). It appears at first that he's the resident genius but later becomes clear that he's the average happy-go-lucky youngster in no mind for studies. His mother (Ratna) constantly despairs over him.
Fortunately for him, he's got relatives willing to take care of his ancestral lands, so money isn't a problem. But love is.
Which happens, quickly enough, when he runs into Anjali (Kadhal Sandhya), a rather over made-up computer science student herself. Visu falls in love with her, getting friends to find out her address and eventually, shifting residence just to be near her.
Of course, problems follow soon enough. Anjali's loud father (Kotta Sreenivasa Rao) has problems with his brother-in-law, which leads to Anjali running away from home and escaping an arranged marriage.
Visu, eager to align himself with her at any cost, boards the same bus as she does and it looks like she's run away with him. Soon, everything becomes as murky as pea soup. But this is a romantic story after all, so there are plenty of jokes, sudden encounters, romantic songs and mushiness to last for hours.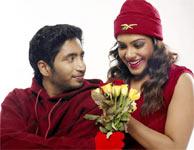 After a really long time, you can watch Kadhal Sandhya without getting irritated. Her make-up and costumes still leave a lot to be desired but the girl has toned down her voice, and tried to inject genuine feeling into her dialogues.
The little touches are effective, and that's why the film works.
Parimal plays a love-sick youngster pretty well. Despite some hiccups, he's got a flair for comic timing, and uses it -- even in a fight scene.
The rest of the cast has nothing to do, except for Nimmi, Sandhya's friend, who gives good advice when it's required.
Odippolama? has a Telugu incarnation as well -- so the dubbing efforts are awry at places.
On the plus side, Suresh Urs' editing is slick and neat, while Anji's camera-work showcases the mood of the film: peppy, youthful, colourful and inherently romantic. D Iman's music, while not exactly scoring with the songs themselves, work well in the background score.
That said, the plot isn't exactly new. 
The real saving graces are the actors themselves, managing to turn not-so-scintillating dialogues into two and half hours of reasonable fun. It might not be brilliant cinema but it's a reasonably entertaining film.
Rediff Rating: