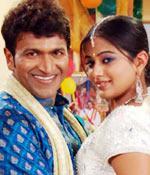 Puneet Raj Kumar's Kannada film Raam is a family entertainer, which is certain to evoke laughter for 150 minutes.
The film, a remake of Sreenu Vaitla's Telugu film Ready, has a wafer-thin story but a strong second half. There are no dull moments in the film at all.
The story does not have any novelty, but it has elements of romance, comedy and action blended perfectly with family values. The film highlights the thought that humanity and harmony is more important than money and selfishness.
Raam is a happy-go-lucky youngster, who always helps others. He and a few friends mean to kidnap a girl forced into marriage but instead, kidnap Roopa on her wedding day due to some confusion. Later, Roopa tells Raam that she too was forced to marry her cousin. 
Some goons start chasing Raam and Roopa, and he sends her to his own house. But Roopa's relatives find her and take her away. How Raam rescues Roopa forms the rest of the story.
The main strength of the film is the script. In these days of nuclear families, the film propogates the value of the joint family. The script has space for great comedy in almost each sequence of the second half. The actors have performed well too.
Puneet and Rangayana Raghu dominate the film in the second half and prove to be a perfect match. The way the song Hosa Gaana Bajaana has been picturised is too good.
The main drawback of the film is its unconvincing climax. Besides, some characters just disappear like Hero's friends, who dominate the first half.
Puneet gives a lively performance and shows superb comic timing. He's terrific in dance and fight sequences too. 
Another great performance comes from Rangayana Raghu, who is becoming the best character artist in the Kannada film industry. Priyamani, who makes her Kannada debut through this film, plays a perfect foil to Puneet in the dance scenes. She looks charming in the film. 
There is nothing special in Hari Krishna's songs, except for Hosa Gaana Bajaana and Neenendhare Nanage Ishta. Krishna Kumar's camera work is okay.
Rediff Rating: