Composers Shankar, Ehsaan and Loy are some of the best purveyors of pure pop but often get bogged down with more substantial work. Which is why it's good to see an album like Short Kut: The Con Is On bringing out their funner side.
Things commence with Patli Galli and the desi-meets-SEL force is strong in this baby as Shankar Mahadevan cranks out simple, meaningless lyrics in his wonderfully casual I-can't-believe-this-is-a-song style. The track dips a bit when slowing down to give us such profound insights (sic) as 'climb where you find a ladder', but the nikal-bhi-jaa bit makes the track work as a frothy, fun song with a deceptively catchy groove.
The album changes gears entirely as track 2 is Kyun Hota Hai Dil Deewana, with its opening strains reminiscent of ghazal bands in north Indian restaurants. SEL spice things up obviously, but there's a slight disconnect between Shreya Ghoshal and Javed Ali's voices that somewhat derails this otherwise vibrant track. As a result, it sounds more like a mandatory soundtrack requirement than the breezy song it could have been.
There's some old-school balladeering up next in Kal Nau Baje, and not just because Alka Yagnik is the lady warbling next to Sonu Nigam. A warm finger-snapping accompanies the duet as the lovers talk of setting up their uncertain rendezvous, and the two singers take on the track with assured calm and even if it musically flags a bit between high-Western-score and DilChahtaHaiism, the neatly written track works nicely overall.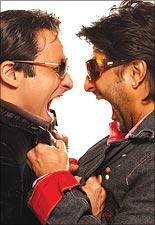 Turn up the speakers as SEL let their collective hair down in the undeniably groovy Mareeze Mohabbat, a punchy track sure to fire up them dancefloors. Shankar Mahadevan herds singers Nikita Nigam, Kirti Sagathia and Hrishikesh Karmekar nicely and while the hole-in-my-heart rap jars at first, soon the vague rap fits in far better than in most songs. I'm always partial to tracks where the composers seem to be having a blast themselves, and this is one of them.
Like they've demonstrated before in Johnny Gaddaar, Shankar-Ehsaan-Loy know remixes better than any other composers in the biz, actually adding value to their tracks instead of just upping a backbeat. The Patli Galli (Remix) is both saucier and edgier than the original, and while the original is more fun, this has very authentic clubby appeal.
We end with the Mareeze Mohabbat (Remix), and what an ending to go out on. SEL tickle the subwoofers and go all out as they scratch and twist their way to a very idiosyncratic remix indeed. It's still not really a dance track, but it's got lounge appeal -- except its a little too loud. It's a hard track to nutshell, and even harder to figure out its exact purpose, but in an industry this commercial, it's undeniably great to figure a tune that's just there.
A very light and frothy soundtrack from Shankar-Ehsaan-Loy, and one can almost picture the composer trio grinning as they made this zany mix. However, the album ends just when you start to get going, and at 4 songs and 2 remixes might not be the best value for money.
Rediff Rating: