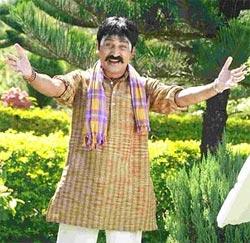 In his latest Kannada film Mooru Guttu Ondhu Sullu Ondhu Nija, Dinesh Baboo follows the same pattern he'd adopted in his earlier comedies by borrowing from filmmakers like Hrishikesh Mukherjee and Basu Chatterjee.
The story starts with an elderly couple going for a pilgrimage to Tirupati leaving behind their son Siddhu and three daughters Ramya, Sowmya and Niki in the house. The wayward Siddhu and his two elder sisters decide to spend time merrily with their friends at night, while the younger daughter sleepwalks.
Meanwhile, Appu, a stranger enters the house to create a big hullabaloo and spoils the plans of Sidhdhu and his two sisters. Who is Appu and what are the reasons for his sudden entry? The suspense is revealed at the end.
Ramesh Arvind has given a credible performance and his effort in speaking in Mandya villager's accent has yielded amazing results. The duo of Ramesh and Komal who had entertained the audience in many films like Sathyavaan Saavithri, Kaththegalu saar Kaththegalu, share a brilliant chemistry in this one too.
Mumbai-based actress Nancy is good in her debut film while veteran actress Asha Latha is very loud. Mandya Ramesh and Sharan appear in just one scene. 
Another highlight of the film is debutant Suma Shashtry's background score, particularly in the climax. Technically the film may not be superior, but who cares about rich visuals when the story of the film is narrated in a quick pace and in an entertaining fashion, though Baboo has to be blamed for some laxity in the narration at the beginning and also his emphasis on showing villagers as rough and loud.
Ramesh and Asha Latha shout in most of the sequences and this could have been avoided. And slapping on the cheek is another irritating factor in the film and it is certainly not comedy.
Still, Mooru Guttu Ondhu Sullu Ondhu Nija is an enjoyable healthy comedy and a film like this has to be encouraged.
Rediff Rating: