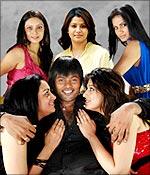 The original Naan Avan Illai (I'm Not Him), starring Gemini Ganesan, and the later version were both successes because of the storyline: a clever, conniving con-man who uses his powers of persuasion, seduction and slick talking to fool women into parting with their wealth.
This time around, Jhabak's Naan Avan Illai Version 2, directed by Selva attempts to re-create the magic of the previous films with the same dose of comedy, flirtation -- but they've added a dose of sentiment and moralising as well.
So does the mixture work? After a fashion.          
Essentially, the Tamil movie follows the same pattern of its predecessor: Annamalai or whatever his name is (Jeevan, styling himself as Mirattal Nayagan) a considerably bulkier version arrives onscreen -- and the opening scene sets the tone for general hilarity. He's revered as god by newly transformed former mafia girl Maria (Rachna Maurya) who runs an ashram of sorts in some unspecified foreign country -- and being the retiring, publicity-shy person that he is, the only shot she can offer of him to the press is one of him sleeping, slack-jawed.
Naturally, his face appears in all the papers abroad (!) leading to much consternation in three stinking rich households; Saki (Shruthi), a rather plump rich brat who's always hankering after a subdued husband, Nisha (Swetha Menon), a con artist who makes a practice of swindling married men who cheat on their wives and Deepa (Lakshmi Rai) a doe-eyed actress who wants to become a realty heiress all over the world.
Its flashback time, as we're told the reason for their anger: our guy has seduced every single one of the aforementioned women, deducing their weak points and homing in for the kill. You have to hand it to Pattukkottai Prabhakar -- his dialogues have the right mixture of levity and scorn, and the way Jeevan sets the stage and plays up to each one of the women is just fun. Sure, there's plenty of skin and slapstick -- but sometimes, the setting is classy and you simply grin with the joy of watching a slick con-man go after each target in such a methodical fashion.
Of course, there's a sentimental side to this as well: Mahalakshmi (Sangeetha), injured in her efforts to help her Sri Lankan compatriots leads a lonely life, struggling to get custody of her child -- and these moments, if elaborate, do bring some depth to the proceedings.
But the storyline returns to hilarity soon enough and retains that spirit to the end. Director Selva has obviously set out to produce an entertainer, and he's fairly succeeded: despite the bikini shots, and mandatory item numbers, the screenplay chugs forwards swiftly, and the entire Vaali segment is productive of a few good laughs. D Imman's numbers, especially Naan Avan Illai and Thooyavaney, are hummable, and his back ground score matches the tone of the film. Balamurugan's cinematography shows us the best and most beautiful of foreign locales -- not to mention the actresses themselves.
As for the actors, Jeevan, once you get past his bulk, manages to re-fit effortlessly into the role that brought him accolades the first time around and you can see he's enjoyed himself every bit. Out of the girls, it's Shruti who doesn't quite deliver. Shwetha Menon brings a joi de vivre to her role; Lakshmi Rai is suitably gullible while Rachna Maurya has been given a rousing opportunity to show off her, er, skills. Which include shaking her hips a la Shakira so much you're afraid she'll suffer permanent displacement.
In the acting department, though, Sangeetha definitely scores. Mayilsami and Raj Kapoor provide the necessary back-up.
A little bit of sentiment and massive dollops of entertainment, that's Naan Avan Illai 2, for you. It lacks a bit of the first movie's originality but if its two-and-a half-hours of no holds barred fun is what you want then this is your best bet.
Rediff Rating: