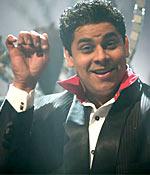 Offbeat, I am afraid, is a rather tricky term. 
In the domain of low-budget cinema, its definition ranges from meaningful, ironic and abstract to silly, obnoxious and uninspiring. But clever filmmaking, as witnessed through films like Khosla Ka Ghosla and Bheja Fry, isn't restricted to a mere budget. Either the script has it or it doesn't.
In the case of director Kunal Vijaykar's debut comedy, Fruit and Nut, it doesn't. If the wishy-washy caper's intent is to draw your attention towards its minutely mocking tone and decipher its slow satire, it fails miserably, chiefly because almost all its characters appear to have escaped a bizarre complex of an imaginary zombie planet. They don't look from this world. They don't dress like this world. They certainly don't talk like this world.
Here's how: So there's a guy named Jolly Maker (Cyrus Broacha). Jolly Maker! Yeah, that's funny. Have your sides split yet? Haven't budged even, right? He ties his shoelaces all wrong and trips on his feet. Does that amuse you? He walks into clear day with his umbrella open confusing his neighbour's plant-watering session to be a rain shower. Those smiley-faced weapons out yet? 
He bumps into his dream girl escape a kidnap with her limbs tied and mouth taped but is too much of a fool to help her out. Ha ha? He swabs the boss's office floor by rubbing himself onto it, dressed in nothing other than his undergarments. Surely Cyrus can do better than this. 
The comedian's superb timing and trademark repartee is wasted in an under-written role that requires the viewer to feel sorry for an entertainer known to have made a name laughing at himself.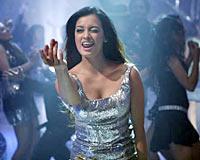 Up next a song follows along the lines of a phantasmagorical Broadway musical. It's neither enchanting nor engaging. It's mostly Boman Irani in a funny frilly tunic sporting an eerie version of Premnath's hairstyle. He plays a crazy Maharaja obsessed with 'breakfast' wanting to blow up Mantralaya so that he can enter the secret passage to his ancestor's palace lying underneath.
To succeed in his evil scheme, he kidnaps members of a heritage committee Monica (Dia Mirza) and her boss Khandar (Mahesh Manjrekar doing what he does best -- ham credibly) who babbles utter gibberish. Here's a sampler: Dustin Hoffman. Yaane ke 'Get out!'
Somehow Jolly gets entangled in this mess and that's what this 93 minutes lunacy is all about.
In between there are tedious songs, lackluster moments of insipid wit, contrived slapstick, blatant promotion of CNN IBN, a plot that leads to nowhere and, well, by then, the film is pretty much lost on you.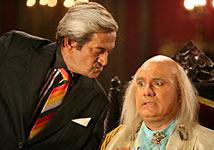 Like its sloppy script and dimwit humour (Pehle Portuguese ne humko bajaya. Phir Angrezo ne humko bajaya , Ab Himesh (Reshammiya) humko baja raha hai), technically too, Fruit and Nut is no great shakes.
The only attractive attribute of Vijaykar's multiplex-targeted mishmash is Dia Mirza. The lady looks fetching in her sexily --draped sari and is unbelievably composed considering all the mayhem that ensues.
My advice, skip the movie, buy the chocolate. It's good. It's fun.
Rediff Rating: