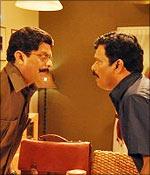 What do you make of a movie tagline that says -- A fool can change your life? Well, I can say it gells with the title of the film, April Fool.
I also guarantee you will think about this tagline much after the film has ended and you have left the claustrophobic environs of the theatre.
Directed by Viji Thampi and written by Jagadeesh (who also plays the lead), April Fool is not an easy watch after the initial burst of humour. Eighty per cent of the movie is shot in a room with just two characters (it could have won an award for being the most cost-effective film, if there was such a category).
The premise of this film is as outlandish as it can get.
There is a rich people's club which arranges a dinner for its members every Friday and, each week, one member brings a dim-witted performer (who could be a magician or musician or singer). Poking fun at this character constitutes the entertainment for the evening.
When it is music baron Rakesh Menon's (Siddique) turn, he zeroes in on Jagadeesh who dreams of making it big as a playback singer. Rakesh invites him home where he plans to test Jagadeesh before presenting him before his club mates.
The problems that Jagadeesh's presence that evening creates in Rakesh's life forms the rest of the story.
The film, basically, is the banter between these two, with short cameos by supporting actors.
Jagadeesh brings to life the term 'one man show' with this project -- he has not only written the screenplay and dialogues, but also dominates the screen for the film's two-and-a-half hour duration.
He does not disappoint -- both as an actor and as a writer capable of penning crisp, natural dialogues.
Coming back to the original question of the tagline used in the movie title -- yes, I believe it is intended as an April Fool joke as the film is a blatant copy of the hugely successful Hindi film, Bheja Fry.
Rediff Rating: