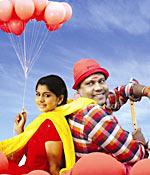 Debutant director Anil K Nair -- said to be a protege of Lal Jose -- mixed and matched plots from two or three films and presented it as a new film. The Malayalam film in question is Pulliman starring Kalabhavan Mani.
The story is about Kunjunni (Kalabhavan Mani), a golden hearted orphan brought up by a whole village and loved by everyone. He reciprocates the feeling with his goodness and helpful nature (it is shown that the kids of the village go to bed only after listening to his lullaby).
So far so good. Taking the story forward is a villain, Kalan Vasu (Ponvannan), a dreadful goonda who has got the whole village on tenterhooks. A lot of screen time is taken up to perpetuate the mythological stature of Kalan, and, someone even utters that the village needs a messiah who has the courage to take on the bad guy.
The story seems straight-forward enough up to this point. But the director seems to have other plans. Enters the heroine, Radha (Meera Nanadan) a nomad making a living by selling statues of deities made out of plaster of Paris who catches our orphan's eye. She also catches Kalan's fancy. A Kind of tension is maintained until the interval by stretching this strand of the story.
After the interval, the plot takes up a different trajectory where Radha's father forbades her to marry the orphan. This is the second twist that the plot takes but this also does not seem to be enough to end the film. So, the third  part is devoted to solve the mystery of Kunjuni's birth.
Generally we do not expect much from a Kalabhavan Mani film. Still we are disappointed by Pulliman as there is no cohesiveness in the plot or any novelty in the proceedings. Even if the justification behind making this film is to show the acting and dancing prowess of Kalabhavan Mani, it does not go down well with the viewer as everything seems to be superficial.
Meera Nandan does not fit the role of a gypsy girl. The problem lies in her poorly etched and presented character. She wears designer salwar kameezes to match the colour-corrected frames. Even the pots that she carries to fetch water match her dress!
Truth be told; the film is a waste of time.
Rediff Review: