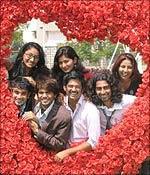 Pavithra Srinivasan reviews the Tamil film,Inidhu Inidhu.
College campuses have always been fertile grounds for film-makers. They're generally held to be glory days of friendship, love, and every finer feeling that life has in store for us.
Telugu's Happy Days, by Shekar Kammula managed to capture that spirit in 2007 -- and here is its Tamil version, Duet Movies' Inidhu Inidhu, directed by cinematographer/director K V Guhan, promising to be every bit as saccharine-sweet as its predecessor.
Eight friends have just left school, and are on the brink of entering the CVITE Engineering College. The story starts with the reminiscences of one in particular -- Siddharth aka Sidhu (Adith), who does a moving soliloquy about how life goes on, how college doesn't involve home-work or responsibilities and life is pretty much a cakewalk.
That is, until he actually begins college and gets subjected to plenty of ragging by his seniors -- and meets his friends for life: Aravind aka Tyson (Narayanan), because he's so much the anti-thesis of a tough guy; Aparna aka Appu (Benaa), the typical tom-boy who wears three-quarters jeans, glasses and couldn't care less about appearing attractive; Shankar (Sharan Sharma), a studious geek who just wants to transfer to a computer course; Shravanti aka Shravs (Sonia), a springy-haired senior whom Tyson has the hots for; Vimal (Vimal) the most apparent dunce, who's never studied anything in his life; Sangeetha (Gia Umar), a don't-care lass whom Shankar falls for and finally, Madhu (Reshmi), a pretty, petite girl with a talent for singing.
It's a bit cliched that they all pair off as soon as possible, but thankfully, the actual process of friendship and settling down isn't quite that tedious. The first few days are all spent in being caught by nefarious seniors: Arjun (Abishek), Sanny Balboa (Sunny Sourav) and others, who rag them mercilessly.
Arjun, in particular, is enchanted with Madhu right away, as he sees her singing at the fresher's welcome meeting. Not surprisingly, Madhu gets to know Siddhu as well, and makes it clear that she'd rather spend time with him -- platonically, of course -- than with Arjun and his greasy hair. Then there's Pal Pandi, a student from the mofussil areas, struggling with the medium of instruction.
The days go on. Everyone gets acquainted with their course, mechanical engineering, and for once you're actually shown students who go to classes, study and grapple complicated subjects. The friends slowly band together, each with their special person, but its early days for that yet. Along the way, complications arise, just as in real life: romance follows a rocky path, quarrels erupt, emotions are misinterpreted, but friendship reigns supreme.
The best part of this movie is that yes, it focuses on all the aspects of college-life that other movies have done -- but there's a thread of realism and naturalness that runs through the whole movie. People speak normally, love doesn't happen at first sight (at least all the time), and the characters are not boring.
The entire cast has done well; Vimal and Benaas in particular. K V Guhan's camera-work is bright, enthusiastic and filled with soft colours that emphasize the youth of the movie, while the editing is fairly neat. The writing passes muster, as well.
On the flip side -- everything is a little too sugar-coated. The entire cast looks and dresses like aspirants of the fashion capitals of Paris or Milan, and while it's very pretty to look at, there's not a thing you can identify yourself with. Practically everyone (except Pal Pandi, perhaps, who appears the most natural of the lot) comes from extremely well-to-do families; they don't appear to have any drive to get somewhere in life. It's nice to watch such a rich life from afar, but so much of it in more than two and a half hours is sickly sweet.
Mickey J Meyer's music is youthful and peppy, but too much of its syrupy sweetness, like the movie itself, gets to you after a while. Inidhu Inidhu (a re-work of Telugu's Arere) and Ammakale O Appakale make you hum.
Nostalgia is the calling-card of this particular film. Points go to the director who's made a movie without the mandatory kuthu song, unnecessary fights and extremely illogical sequences, but much of the credit for that undoubtedly goes to Kammula himself. A shade more of down-to-earth background and less of rosy, perfect friendship that solves everything might have done more for this film.
Rediff Rating: