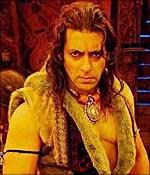 The son of a legendary hero grows up and attempts to follow in his father's footsteps, however bloodthirsty this road may be. It is standard Bollywood cliche, but Salim Khan, one of our most iconic screenwriters, deserves a better tribute than son Salman, credited for the film's story, churning out this unbelievably hackneyed period disaster.

Director Anil Sharma has never been known for his subtlety, and here, sinking his teeth into the painfully melodramatic script, he goes at it hammer and tongs, taking one megabudget misstep after another.

Set ambiguously in the nineteenth century, this is the story of a warrior clan, the Pindharis, a mercenary lot who become sworn enemies with the King of Madhavgarh, Rajasthan after the latter betrays them, joining hands with the British for a full-blooded Pindhari slaughter.

All this happens in the first few minutes of Veer, Mithun's Pindhari sergeant hacking off the King's (Jackie Shroff) hand right in the prologue, so even as you realise this is going to be a noisy, hoofbeat filled monstrosity, at least there can be wall to wall action? No such luck.

A son is born to Mithun and he takes the infant out into the rain, wanting to toughen him up like a Spartan. This boy grows up to be Veer -- which translates to Salman on horseback, dressed in the only way tribal warriors do: wearing eyeliner, leather pants, cowboy boots and a poncho. I kid you not.

And that was the good part, you soon realise as you sit back helplessly and have the film ravage your sensibilities. Salman falls in love with a fair princess, goes off to England to study, and comes back to do a DDLJ and go win her hand, ostensibly without spilling much blood. Intentionally, at least.

And in the middle of all this, there is a musical broach and a song laden with horrible English malarkey, some tripe about eyes and hearts and souls, that attacks us seemingly at will, verses lobbed sporadically -- and sadistically -- at the audience like hand-grenades. Groan.

There are surprising asides in the first half -- a look at the infamous system of punishment via cane-breaking, and a passing mention to Lord Macaulay's strategic attempt at breaking down the natives by making them little brown Englishmen -- but all this is well shrouded in soap-opera storytelling.
The second half doesn't even pretend at being Indian, or historically relevant: the pre-climax involves two knights jousting for the girl's hand after she, Grease-like, drops a red scarf to signal commencement.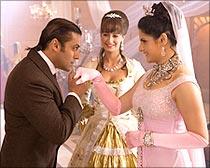 Particular brickbats must also be directed towards the film's costumier Anna Singh, for completely ignoring the period: Salman wears faded orange jeans with white kneepads, for example, and armoured breastplates are often made of rubber, changing shape as the wearere huffs and puffs. Anything goes, apparently.

The film is mounted on a massive scale, and you do see hundreds of extras milling about -- but they clearly don't matter. All that does is Salman, who cashes in every ounce of his insouciant brat-star persona to lug this film forward and, credit where its due, comes off as likeable for at least the first hour, which is more than most could have with a film this catastrophic.

It's a film so dated it hurts. Imagine Manmohan Desai's atrocious Mard, but minus Mr Desai or Mr Bachchan. Yes, that bad. Of course, perhaps these very qualifications as a potentially classic drinking game will ensure Veer a hit box office status, but if this film succeeds, we should all be a little concerned.

The other principals of the film are Mithun, Sohail Khan, who plays Veer's younger brother, and Shroff, now straddled with a golden arm uncannily reminiscent of Gulshan Grover's in the new Karzzzz. For some unfathomable reason, ad-man and occasional actor Bharat Dhabolkar is around, playing one of Mithun's dialogueless chamchas.

Then there's Zarine Khan, looking like a stout stewardess from Emirates, who catches Veer's fancy and walks around trying hard to pout, while Neena Gupta, playing Veer's mother, is so besotted by Mithun that the couple pretty much makes love to a cheering Pindhari audience. No wonder the kid turned out veerd.

Rediff Rating: