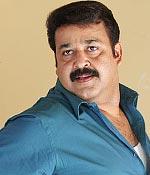 When things go wrong, we tend to turn to our most trusted friend for help. The Malayalam film industry follows the same technique – it tries to bring back the lustre by bringing back all those who had shone in its golden period. And who is better than our trusted writer Sreenivasan who, we think, still has the magic potion? Then add Mohanlal, who has given life to many commoner characters created by Sreenivasan's pen. And that's the team for Oru Naal Varum, directed by T K Rajeev Kumar.
But the question remains: Will the Sreenivasan-Mohanlal magic work in recycled films? The response would be mixed as Sreenivasan does try to give contemporary feel to his stories. Still, it feels he has tried to fit in too much in this script.
Gopikrishnan (Sreenivasan) is the assistant Town Planning Officer who does not mind fleecing the government or the citizens. He shamelessly takes bribes, and convinces his naïve wife (played by Devayani) that he is not corrupt -- that it is a mutual 'give and take' among friends.
There enters Kulappulli Sukumaran (Mohanlal), a commoner who has to get Gopikrishnan's approval for his house plan. But there is a history of an incident of road rage between them. So Gopikrishnan troubles him to his heart's content.
This is just one stream in the narrative. There are other sub-plots like the domestic life of the two main leads and the workings of a governmental department.
While Gopikrishnan has a simple home-maker for a wife and a teenage daughter, who wishes to pursue medicine after completing her school, Sukumaran has an ambitious wife Meera (Sameera Reddy), who has separated from him as she feels stifled at home. So Sukumaran is a single parent of their school-going daughter, still fighting for custody.
The other notable sub-plots involve Nedumudi Venu as an ex-military man, who is harassed by Gopikrishnan for a supposedly illegal extension of his house and he refuses to bribe Gopikrishnan for getting it approved.
The first half works wonderfully due to the presence of a lively and humorous Mohanlal. Sadly, he transforms into somebody else just before intermission: as if to do justice to his superstar image.
Sreenivasan seems to be going through a lean patch as an actor and writer. His trademark sharp and witty dialogues are missing. Even his performance as Gopikrishnan is below par.
Sameera Reddy has nothing remarkable to do. Was her role truncated on the editing table? Devayani walks away with a meatier role as the docile housewife not just because of her extra screen time but also because of her contribution to the narrative.
The other noticeable performances are of Nedumudi Venu and Suraj Venjaramoodu (as Gopikrishnan's driver and middleman in his illegal activities).
Oru Naal Varum may be a well intended social satire but it ends up as a conundrum.
Rediff Rating: