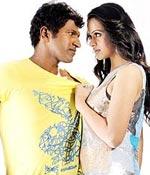 Shruti Indira Lakshminarayana reviews the Kannada film Jackie.

Director Suri's Kannada film Jackie starring Puneet Rajkumar tells the story of Jackie, a happy-go-lucky young man.

Jackie (Puneet) hails from a lower class background and is on the lookout for short cut to success. Unlucky with his real estate deals, Jackie resorts to playing cards to make money.

But as if life wasn't any less complicated, a missing case of a neighbourhood girl and a prisoner's escape add to his vows. Jackie is forced to go on the run after being accused of not only sheltering a convict but also helping the village priest's daughter elope with her lover.

It is on his escape mission that he encounters Lakshmi (Bhavana), a damsel in distress. He no doubt saves her from black magic that her wicked family members would have practiced on her but only later to be bound by her magical spell. But will this love story also add to his existing problems?

Jackie opens with a bang. Puneet makes a powerful impact in the very stylishly shot intro song that also features director Suri, lyricist Yograj Bhat and music director Hariskrishna. The story that follows however fails to grip you with the same intensity. The first half goes in a prolonged establishment of the lead characters. Even scenes of Puneet as a child actor add little weightage. Songs creep up at regular intervals too but that can be pardoned as they are a delight to watch.

The film's pace picks up in the second half as Rangayana Raghu with Puneet's assistance lights up the screens in his police avatar.

Puneet puts up a convincing performance. The songs and fights have been designed to suit the actor's image to perfection. Kudos to Different Danny and Ravi Verma for having directed crisp, power packed and timely action bits. Puneet particularly excels in a fight where he is shown as a mad man. Also punchy dialogues are sure to delight Puneet's fans.
Yograj Bhat's lyrics and Harikrishna's music have been backed by apt choreography especially in the title track and the songs Shiva antha hogutide... and Ekka raja rani....
Bhavana looks good in songs to which she is mostly confined. Harshika Poonacha, Birardar, Ravi Kale and Sampath Kumar have small roles.
Jackie caters both to the class and the mass. It has a fair share of both sentiments and action and even comes with a message on human trafficking.
Makes for a one time watch.  
Rediff Rating: