'I don't want people to compare me to my mom'
Last updated on: October 22, 2009 17:07 IST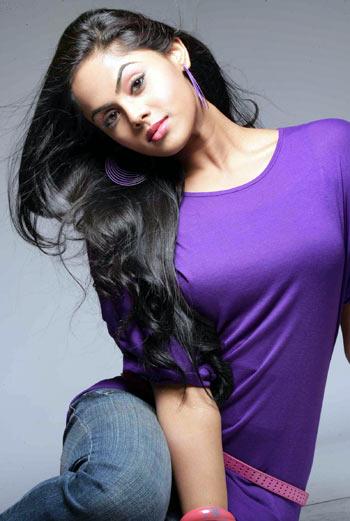 Her mother and aunt were hugely successful stars till about two decades ago having acted in most of the South Indian languages opposite some of the biggest male stars.
Karthika, the daughter of actress Radha and niece of Ambika too was bitten by the acting bug and made her debut in the Telugu film Josh opposite Naga Chaitanya (son of Akkineni Nagarjuna).
Though the film lacked josh to sustain at the box office, the tall and lissom actress showed promise. Radhika Rajamani caught up with Karthika to find out more about life after Josh, and much more.
What made you choose Josh as your maiden film? Was it because it was being produced by a successful producer like 'Dil' Raju or the fact that Naga Chaitanya was also making his debut?
Yeah, it was a combination of both. Just the hero launch was not the main preference. It was combined with a good production house where my mother felt that the script was meaningful.
So the script was decided by your mother?
Yes.
Once you signed the film, how did you prepare yourself? Did you go through any acting classes? Were you groomed by your mother or aunt?
I did not take any acting classes. Everything happened all of a sudden. Within a week of signing the film, I had to report for shoot. The fact that I did not go for acting classes came in handy. If I had gone in for acting classes, my expressions would have been more calculated rather than natural.
'Natural actors are born, aspiring actors are made'
Last updated on: October 22, 2009 17:07 IST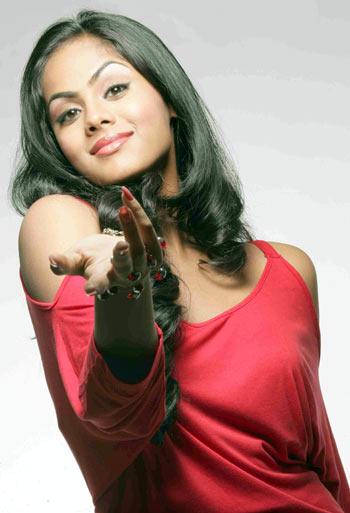 So there was a lot of spontaneity on the sets?
Yeah, kind of. It really helped. That's how the freshness came.
Was acting a deliberate decision?
It's not purely by chance that I wanted to act. I knew I wanted to do a movie or two somewhere down the line though I didn't know when. My grandmother and others would often ask me why I wasn't acting.
Do you think actors are born or made?
Natural actors are born, aspiring actors are made.
Josh did not do do well as expected. Were you disappointed?
Not at all. As my mom said, success or failure doesn't matter as long as you do good work. Josh is a unique movie; it is not a masala movie or a family movie but a meaningful one. According to me It fared well and I'm quite happy with what I did in it.
What do you think went against Josh?
Probably, the high expectations. I felt the title Josh could have sent the wrong connotations. Perhaps people expected a total mass movie or a commercial one and not a mixture of everything. Also, I felt the timing of the release mattered. Because of the CM's death, the premiere got cancelled.
'I never thought of acting as a career'
Last updated on: October 22, 2009 17:07 IST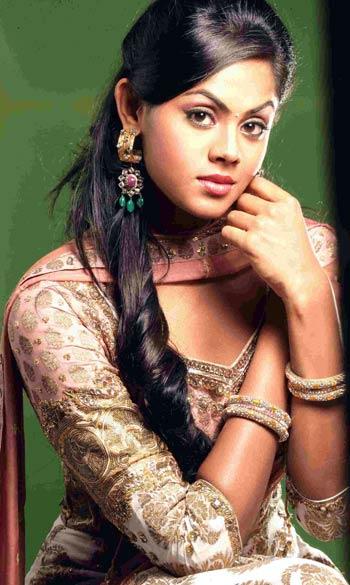 How was it working with Naga Chaitanya?
It was fun. We were more committed to our work. I was busy learning my dialogues. He is very hard working, caring and helpful guy.
Was Telugu a barrier?
Yeah, I was nervous. As it was a new language, I thought I would be lost. My character in Josh is that of a chatterbox. As a result I had long dialogues. So, it was quite a challenge to learn them. I have never studied so much in my life.
Luckily after two-three schedules, I got the hang of it after asking the unit members to speak to me in their language. The dialogues were written in English which my mom would then explain to me.
Your mother and aunt were hugely successful stars. Does that weigh on your mind?
Not exactly. I don't want people to compare me to my mom. Expectations are there. I wanted to see if I can, if I'm willing to be an actress. I was competing with myself rather than with my aunt or mom.
How encouraging are your parents?
They were always encouraging though I was shocked by my dad's support. I thought he wouldn't be keen in letting me act. In college, my parents saw me in dance competitions and fashion shows. They thought I had the talent so why not show it. Getting my Dad's support, I was even more encouraged. My mom has always been supportive.
Till now I never thought of acting as a career, I never looked at it as work. My dad said, 'one has to be sincere, committed and take it seriously.' Only then did I started to take it seriously.
'I don't want to do one movie and vanish'
Last updated on: October 22, 2009 17:07 IST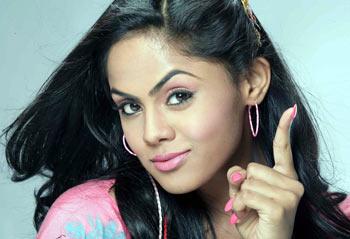 Were you inspired by your mother and aunt?
They inspire me a lot. My mom is my support system. My aunt never thought I would get into acting so early. Right now, she's the only one in the film line. Whenever we meet, she updates me about the film industry and everything. When she's in Los Angeles, she gets me the latest fashion garments. Instead of telling how to act, my mom told me how not to act and to keep it natural.
You are barely 17-18. Do you see yourself in movies in the years to come?
Yes, why not? I don't want to do one movie and vanish. Offers are coming. I want to do one meaningful movie a year with a nice banner, a nice script rather than a lot of movies in a year.
Would you want to act in all the South Indian language films? What are the kinds of movies you want to do?
Yes. I am getting offers from Tamil, Kannada and Hindi. I have done a Telugu film. So language is not a barrier. I am open to challenges and I will be comfortable doing different films in any language. Since I am in my teens, I would like to do teenage movies -- all roles including glamour though not just glam roles. Even after watching the film, my character should stay in everyone's mind.
Is your mother your backbone as far as your selection of films go? Do you take her help?
Of course. She's the one who deals with production houses and takes care of everything. Obviously no one calls me up and I don't discuss my movies. That way I'm really blessed.
How do you want to sign films? Do you look at the script, production house, director or hero?
It should be a nice production house. I listen to the whole story and I am open to new actors and directors. Even Vasu Sir (Vasu Varma, director of Josh) was a new director. I'm open to challenges.
'I can't fully depend on acting'
Last updated on: October 22, 2009 17:07 IST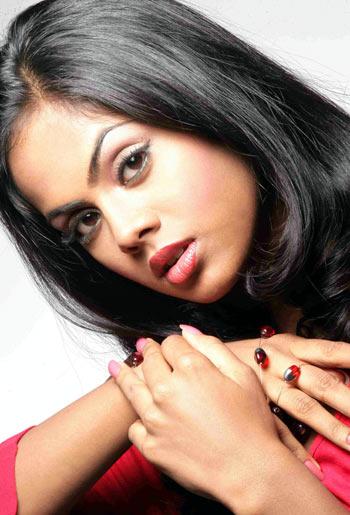 It is said you paint and dance. Can you tell us more?
I am not a great artist though I love art. I have been painting since childhood. I took art as an extra subject. I am now painting for the course (A levels-Cambridge).
I am a trained Bharatanatyam dancer too. I learnt under Naresh Kumar Pillai (Kalakshetra). I started learning at the age of five. My mom maintained that classical dance is the base of all dances, and once you learnt this, you can do all forms. I stopped learning a couple of years ago but would love to get back to it. Other than classical dance, I learnt a bit of salsa, belly dance and hip-hop.
Would you want to pursue your education?
Yes. My mom worked in 150 films and stayed on for so long, which is impossible in today's times. Now everyone wants to see fresh talent. Newcomers are more than welcome. Actresses have a short time span in movies. Only if you have real talent, can you continue. I can't fully depend on acting so that is why I am continuing my studies in hotel management as my dad has a resort in Kovalam, Kerala.
Do you like travelling and reading?
Yes. Every year the whole family goes for a vacation, so we have covered about half the world. I mostly read fiction.
How has the family taken to you as an actor, especially your brother and sister?
Nothing has changed. They are making sure I stay grounded. They don't treat me any different.