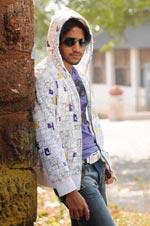 Josh is another addition to the "student" films in the recent past. There's enough action, songs, bit of romance and some humour -- the usual masala ingredients to make the regular potboiler. But it's very preachy on the subject of students; their attitudes, their relationship with parents and teachers and so on.
The Telugu movie introduces Naga Chaitanya, Karthika and the director Vasu Varma. Both Chaitanya and Karthika belong to a lineage of actors: he is the grandson of Akkineni Nageswara Rao and Rama Naidu, son of Nagarjuna, nephew of Venkatesh while she is the daughter of actor Radha and niece of Ambika. There were high expectations from Josh, but unfortunately the film does not measure up to them. 
With a rather hackneyed plotline, Josh has in essence, all the goings-on in colleges today: student gangs and rivalry, making things difficult for the serious students, the local student leader aspiring to be nominated to the party using the students as a pawn, violence and strikes resorted to often, a career nipped in the bud on account of drugs, etc.
Into this scenario enters Satya (Naga Chaitanya) a student from Vizag. He tries to bring about a change which is not liked by the rival student gangs, who in fact unite to fight him. He runs into Vidya (Karthika), a primary teacher in a convent school who had to discontinue her education after her intermediate as her brother (who runs an Irani cafe near the college) does not want to send her to college because of hooliganism.
Satya gets drawn into the vortex of student problems as he complains against their violence to the police before joining college. The aspiring student leader Jaya Durga Rao (J D Chekravarthy) is the one who actually encourages the students to take this up. Satya is pitted against JD. He doesn't mind being hit, beaten up but is firm on his path. A flashback reveals his reasons for doing this. Will Satya bring about the desired change in attitude?
Josh as such, does not have anything new about it. The theme has been touched upon before. The attraction now is Naga Chaitanya who has the movie on his shoulders.
The film is a tad long in the second half and after a point, it's a kind of de javu one experiences. The director seems to have been caught between entertainment and education and finally delivered a product which is heavily dominated by the message bit. It's good to give a message but it need not have been so glaring.
There are some action sequences well orchestrated though, especially the one where Satya and Vidya are on the run and Satya has to fight in between the traffic, find Vidya and run. Similarly one or two songs are well choreographed.
As a debutant, Naga Chaitanya has performed well. He has his moments where he's proven himself -- the one where he gives the 'emotional' speech at the college in Vizag. He is rather subdued in the first half and shows off his josh in a few sequences in the second. He dances well and is geared to do fights well too. There is always scope for improvement and one hopes that he will hone his skills in the years to come.
The characterisation of Karthika is a lively one and she is chirpy and vivacious, chatting nineteen to the dozen. She is tall and lissome and can carry different clothes well -- glamorous as well as non-glamorous. But there is not much chemistry between the lead pair.
Chekri is not the menacing villain but a restrained one. Brahmanandam does not have much of a role to play, while Sunil does manage to evoke a few laughs. Prakash Raj is impressive in his cameo as Principal.
Sandeep Chowta's music is youthful but so-so. Barring just a melodious song Neeto Unte, there's nothing much to remember about the music. Sameer Reddy's camera work is one of the highlights of the film.
On the whole, the curiosity of seeing the newcomers Naga Chaitanya and Karthika will be the main propelling element for the viewers to see Josh. It may also connect with the student community with its tagline which says 'Youth rocks!'
It's a pity however, that the movie doesn't!
Rediff Rating: