Kkusum girl resurfaces in Three
Last updated on: September 3, 2009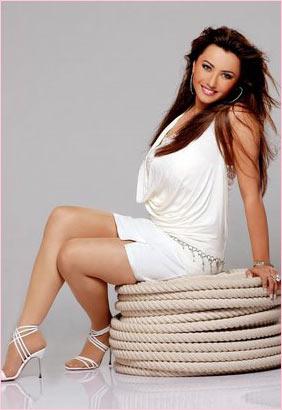 The original Kkusum girl, who made the television soap a big hit, movied on from the spotlight soon after. Now, many years later, Nausheen Ali Sardar will make her film debut with Vikram Bhatt's production Three-Love, Lies and Betrayal.

The thriller revolves around adultery, as Bhatt penned in this column.
Nausheen talks to Rajul Hegde about the movie and why films are her priority right now.
How did Three happen?
I was not the original choice to play the character. The makers had selected a foreign actress but they weren't happy with her accent. Vikram Bhatt and [director] Vishal Pandya asked me to audition because they had seen my work on television. I auditioned and was selected.

What made you accept this film? Vikram Bhatt has been giving flops, and the rest of the cast -- Ashish Chowdhry and Akshay Kapoor -- aren't stars. Aren't you worried the film may not launch you properly?
It doesn't matter whether the director, actor or producer gives hits or not. What matters is to work with a potential actor, director and a producer. Vikram has given hits films like Ghulam and 1920. I am happy that I got to work with a renowned filmmaker. I would like to work with him in future too.

There is no flaw in the film, cast, director, producer or the script. When everything is so perfect, why would I get worried about my launch?
People have liked the film. Every character has been given equal footage. Ashish Chowdhry is playing a negative role for the first time and Akshay Kapoor is playing a married man for the first time. Both of them have done decent films before. It's not like they have done some C-grade films. Actually, it should be the other way around because they are doing a film with a newcomer like me.
'You never know when you fall in love with someone'
Last updated on: September 3, 2009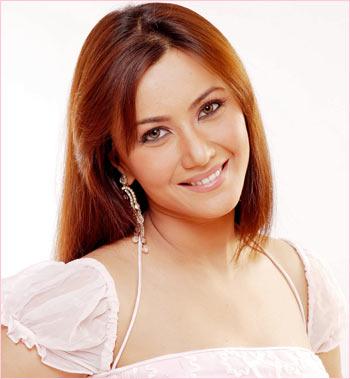 What is the film about? Do you agree with the film's idea?
The story is about Anjini and her husband Rajeev. She is a Scottish violin teacher who is running the house with whatever she earns because her husband is not able to earn anything. This leads to anger and frustration in their relationship. She decides to help her husband and give one portion of her house on rent so that he can use the money for setting up his business. Sanjay comes to stay as a tenant. He reads the tension between the couple and sympathises with her. In the process, she falls in love with him owing to the lack of love in her marriage.

There is nothing called right or wrong; sometimes circumstances makes you weak and you make mistakes. You never know when you fall in love with someone. It can happen anytime.
You have a glam role unlike your character in Kkusum.  Did you have to prepare for it?
I wear western outfits in real life too and am not healthy as I was in
Kkusum
. I had put on weight after I met with an accident during the show. The film is shot in Scotland and keeping that in mind, I had to lose weight because I had to wear winter jackets which would otherwise look bulky.
'My first takes are always good compared to the rest'
Last updated on: September 3, 2009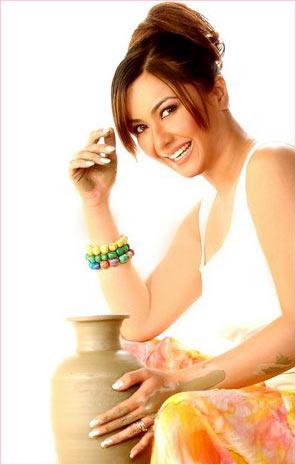 Any particular scene, which you couldn't get right?
I remember the last scene. It was a night shoot -- we were shooting around 3am. I was sleepy so I was not getting the act right. Vishal Pandya was very understanding and gave me a half hour break. After the break, I gave a perfect shot and it turned out to be the best scene in the film.
My first takes are always good compared to the rest. I put all my effort and energy in my first take. If I don't get it right then it's impossible to get the best short in the second or third take.

What differences do you find between television and films?
The main difference is that you get a variety of roles to do in films. People will remember you by your name and not by the character you play like it is in television shows. Plus, in television you are playing the same character for X number of years and that becomes monotonous. Whereas in films you shoot for three-four months and move on to the next project.
'I am girl of Indian values'
Last updated on: September 3, 2009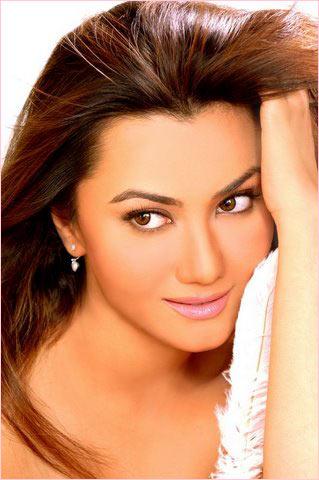 How was the experience of working with Vikram Bhatt?
He is such an intelligent person. I simply love to listen to him. You ask him about any topic and he can talk about it. I am awestruck by his persona.
There was a car accident during the shooting of the film in Scotland. When Vikram Bhatt got to know about it, he was more concerned about the cast and crew than the car. It shows how good a human being he is.
You had become a household name after Kkusum but you didn't take up any other serial after that. Why?
After Kkusum, I did Kala Chakra on Star Plus but it didn't do well because they didn't promote it well. There was not a single hoarding in Mumbai. I got many offers after the show but I decided to go on a sabbatical. I rejuvenated myself through exercises like kickboxing, aerobics, swimming and yoga. I also travelled with my brother. When I returned, I was fresh and was ready to take up work.

You were not seen in many parties/events after Kkusum. Was it a conscious decision to stay away from the media? What have you been doing all this time?

I do attend parties and events but then the media gets nosey. I was linked to any guy I was seen with. At one time, they even linked me to my brother because they saw me with him.
I would appreciate if they write about my work instead of writing what I was wearing or drinking at a party. I am girl of Indian values and if I am in a relationship I would want to get married to him not do time pass. So I completely cut off from the media and parties.
'Films are my priority now'
Last updated on: September 3, 2009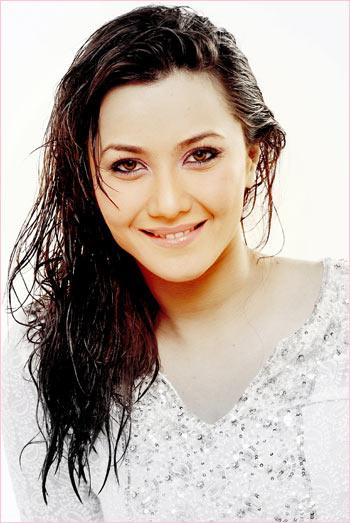 Why did Mansi Joshi Roy replace you in Kkusum? Are you still in touch with Ekta Kapoor, who produced the show?
I was not comfortable with the leap of 20 years. I was already playing a 28-year-old woman when I am just 21. I was not convinced to play a role of a 40-year-old mother to a girl of my real age. Ekta tried to convince me and she offered me a very big amount. But I decided not to continue with the show because I was uncomfortable.
After my notice period, Mansi stepped in to play the character and it didn't do well. Ekta called me again to the show but at that time, I was doing a show on Star Plus and was bound by a contract. Mansi got to know about it and left the show. Shilpa Saklani was brought in her place and after that, it didn't get a good response. Finally, they decided to end the show.
I am very much in touch with Ekta and have invited her to watch my film. I was offered a role in Balaji Telefilms but I didn't take it up.

Will you return to television?
No. Films are my priority now. I would be happy if people accept me on the big screen. I wouldn't mind hosting a chat show and taking part in show like Fear Factor. But I don't want to do reality show where there is a camera on me 24/7.

Do you miss being on TV?
Not really. I always wanted to do films but television happened by chance. There is so much of stress in daily soaps. Plus, I don't want to lose my identity by becoming another bahu on television.

What's in the pipeline?
I was out of circuit for sometime and many thought I got settled abroad. Now after seeing the promos people have come to know that I am interested in films. I am getting offers and reading scripts but nothing concrete has happened so far.