Helming a masterpiece that is Angadi Theru
Last updated on: April 5, 2010 18:26 IST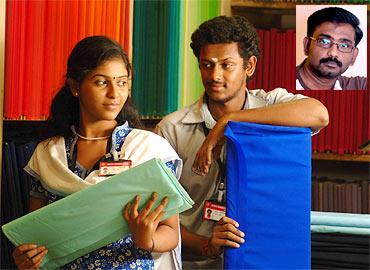 One Tamil film that is making waves is Vasantabalan's Angadi Theru. Viewers and eminent critics are unanimous in hailing the film as a masterpiece and a landmark in Tamil films. Angadi Theru has been showered with praises for its realistic and disturbing portrayal of  the lives of young men and women who migrate from the smaller places in Tamil Nadu to Chennai in search of greener pastures.
It needs immense willpower and courage to continue to make films that you believe in; and that is what extremely talented young film-maker Vasantabalan did with his second film Angadi Theru. His first film Veyil produced by director S Shankar was not only a commercial success but paved the way for many experiments in Tamil.
Veyil was also the first Tamil film to be screened at the Cannes Film Festival, in 2006. It was screened under the Tous les Cinemas du Monde section in a theatre called le Cinema du Monde, a rare distinction for the young film-maker.
In this exclusive interview with rediff.com's Shobha Warrier, the director talks about Angadi Theru (The Market Place).
'After Veyil, I wanted to make something different'
Last updated on: April 5, 2010 18:26 IST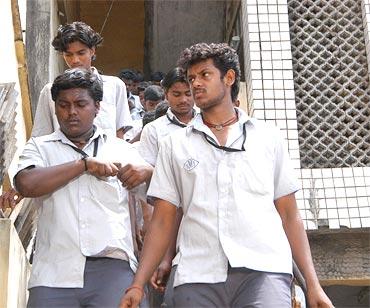 Your first film Veyil was hailed as a great film and it also became the first Tamil film to be screened at the Cannes Film Festival. Was there pressure on you when you were about to make Angadi Theru?
Yes, I was under pressure but only 20 per cent -- 80 per cent of my mind was in the making of my film. I did not think of anything else but the characters and the ambience.
It is for the first time in Tamil that a film was made on the lives of the young men and women who work in such horrible conditions in the shops in one of the most populous street in Chennai -- Ranganathan Street. How did you come up with the idea?
After making Veyil,  I was certain that whatever I made next would have to be different and not attempted before. That was the only thought I had in my mind.
Ever since I came to Chennai, T Nagar and Pondy Bazar have been my world; that was where my life was centred around. That was how I met these youngsters. I did a lot of research before writing the screenplay.
'What I've shown is only half the truth'
Last updated on: April 5, 2010 18:26 IST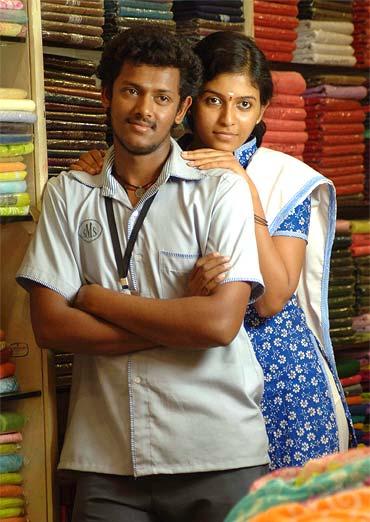 What kind of research did you do?
I did not want to give any wrong information about these people; I wanted everything to be true and genuine as I was dealing with real people.
It all started when I first saw a group of young men and women in uniform walking along Ranganathan Street at midnight. I was shocked to see so many of them at such an unearthly hour on the street, that too in uniform. I asked them whether they were from any night school, though I knew there were no schools or colleges that operated that late at night. Some of them said they were coming out of the shops they worked in. I was indeed shocked to see so many young men and women so late on the street after work.
I did not know how to follow them or their lives as none of them was forthcoming. They looked and sounded scared. There was no way I could talk to them on Ranganathan Street. So, I decided to rent out a room in a mansion there on the street. The room overlooked the street and from my window, I could observe them from afar. I stayed in that room for six months, occasionally coming out to extend a hand of friendship to some of the youngsters.
How long did it take you to win their confidence?
It took many months to win their confidence, that too only with a few. Rather, I did not exactly win their confidence. To get the real picture, I had to go to the villages to meet the guys and girls who had gone back home. They were more forthcoming about their experiences. Even with those kids, I had to do a lot of talking to win their confidence. I had to assure them that nothing bad would happen to them if I made a film on them.
Did you show in the film what really happens to them in the stores?
No. What is true is more cruel; what I have shown is only half the truth. Reality is even worse. Today, viewers say that I have disturbed them with the story. But the fact is, I know cinema is a means of entertainment and I have included love, emotions, drama, friendship, humour, songs and many other things in the film as relief. I have added all these so that people can watch the film without feeling really bad. If you happen to see what is real, you will be even more shocked; it is harsh, cruel and painful.
'By the time I finished making the film, I was so disturbed that I wanted to meet a psychiatrist'
Last updated on: April 5, 2010 18:26 IST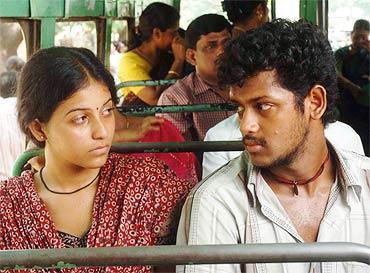 You mean to say reality is even more shocking than what you have shown in Angadi Theru?
Yes. Much more shocking. Angadi Theru is not confined to Ranganathan Street or Chennai alone; such appalling working conditions exist all over the world where there is poverty. There are many, many such youngsters who are being exploited in the name of modernisation and urbanisation. They are the voiceless, faceless people of today's world.
As a creative person, how disturbing was it for you to give face and voice to the countless such faceless and voiceless people?
I was extremely disturbed. By the time I finished making the film, I was so disturbed that I wanted to meet a psychiatrist. I made Veyil in 2006 and it took me four years to make Angadi Theru.
So, you can say I was carrying these characters within me for four years which was too difficult. These characters were not like the ones we create from fantasy; they are real and all of them suffer. I came out of the emotions only now that I have started thinking about my next project.
Are you happy with the reception the film received?
I am very happy. More than anything, I feel vindicated and a lot of people have started looking at the lives of these young men and women, with compassion. A lot of activists are trying to help these people out. More than the reception I got for my film, I am happy that the public has suddenly started looking at these hapless young people with sympathy.
'I did not expect such a warm reaction'
Last updated on: April 5, 2010 18:26 IST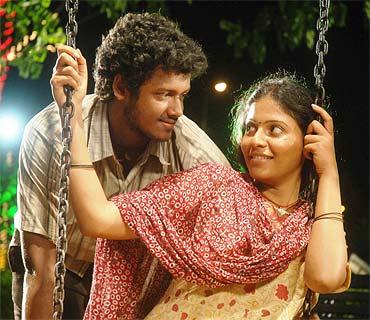 The movie has been hailed as a masterpiece by many including Suhasini Mani Ratnam in her review show. She complimented you for daring to make a realistic film. Did you expect such positive feedback?
To tell you frankly, I did not expect such a warm reaction, though I was aware it would strike a chord somewhere. I had a gut feeling that this would have a better impact than Veyil but what has come to pass is overwhelming.
Not only in Tamil Nadu; but I am getting mail from people from all over the world -- even Norway and London -- wherever it was released. I felt very happy that humanism is still alive all over the world.
Somehow I felt we had lost the humane side in us but the response has given me hope that humanism is not lost yet. Ordinary human beings reacted so sympathetically and warmly to the characters. More than the urban people, it is the people in the rural areas who have warmed up to the film.
Many do not know what to call your film -- urban or rural. Though the story happens in Chennai, the characters are so rural.
I know. It is a Chennai-based film but the characters are not urban; they are from Tirunelveli, Thiruchendur and other such places. That is why people in the small towns have warmed to the film more than the urban people.
Will your third film be different from Veyil and Angadi Theru?
Yes, It will be totally different from the two films I have made so far. After Veyil,  I had decided that I would not take the commercial route and I'm happy that viewers have accepted what I made. I want to make only good films as I am addicted to only good films.