The Top 75 Films of the Decade
Last updated on: February 3, 2010 19:19 IST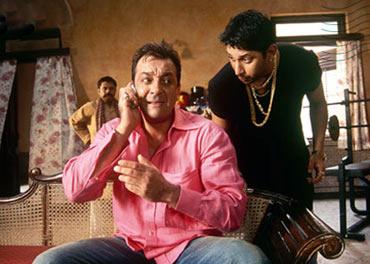 I was skeptical as soon as I was asked to make this list. Fifty is a staggering number, and every year I spend watching Bollywood movies, I find less than an average of five movies to cherish. Much less. Sigh.
Yet once I started on the list, I realised there's been a lot of great, eclectic work. Granted that a lot of the films on the list aren't masterpieces, or even remotely close to flawless, but I own every single one of them on DVD, and they are films I would recommend without question.
Starting after the unquestioned film of the decade, I've let the choices come to me in shuffle mode, so they are in absolutely no order of chronology of preference. I hope you enjoy this mixed bag.
Here's the first part of this special series. Feel free to send in your list as well!
Lage Raho Munnabhai
Cast: Sanjay Dutt, Arshad Warsi, Vidya Balan

Director Rajkumar Hirani and writer Abhijat Joshi pulled off a major miracle with this masterpiece, made from the most audaciously ambitious script of all time.
It's a Gandhi film that's irreverent, clever, packs an emotional punch, excessively feelgood and happens to hold a fantastically effective message. Magical.
Omkara
Last updated on: February 3, 2010 19:19 IST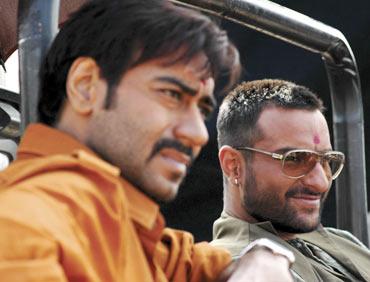 Cast: Ajay Devgn, Saif Ali Khan, Vivek Oberoi, Kareena Kapoor, Konkona Sen Sharma

In terms of craft, this one's a masterclass.
Director Vishal Bhardwaj sculpts a soundtrack as brilliant as his frames, and this retelling of Othello is spectacularly original despite being faithful, occasionally to the very word of the Bard. Spectacular acting all around as well.
Oye Lucky Lucky Oye
Last updated on: February 3, 2010 19:19 IST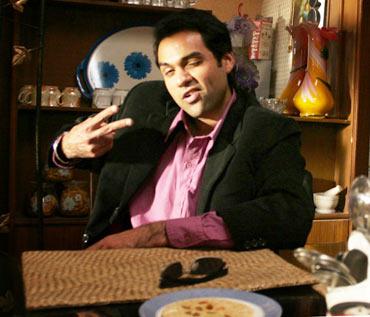 Cast: Abhay Deol, Neetu Chandra
A wonderfully nuanced film, this is a character study for the ages.
Director Dibakar Banerjee takes on the genre least trod to give us a phase in the life of a criminal, and Abhay Deol is terrific as the cocky titular hero.
The script is soaked with duality and nothing at all happens without resonance or reason.
Kaminey
Last updated on: February 3, 2010 19:19 IST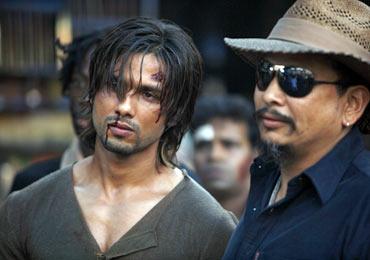 Cast: Shahid Kapoor, Priyanka Chopra

Bogged down by the desi bard tag, Vishal Bhardwaj indulged his Tarantino-lovin' roots to the max with this tremendous brother-story involving orally challenged twins, guns, guitars, gangs and much, much mayhem.
Oh, and it has heart to spare. Wow.
Lagaan
Last updated on: February 3, 2010 19:19 IST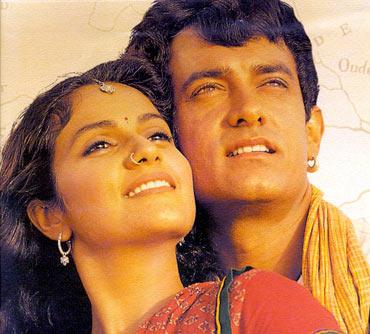 Cast: Aamir Khan, Gracy Singh

There's something to be said for a four-hour movie that leaves audiences breathlessly cheering in the aisles, and Ashutosh Gowariker managed a fantastic knock with this refreshingly revisionist take on a cricketing history that never was.
Blue Umbrella
Last updated on: February 3, 2010 19:19 IST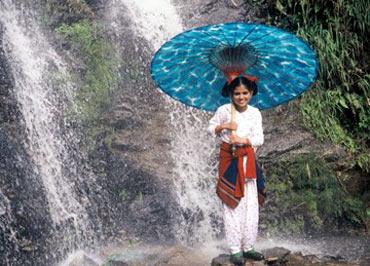 Cast: Pankaj Kapur
The finest living actor in Hindi cinema delivers a masterclass in this spirited adaptation of a Ruskin Bond short story.
Vishal Bhardwaj works the story cleverly and Sachin Krishn's visuals are delightful, but above all Pankaj Kapur acts -- and we marvel.
Company
Last updated on: February 3, 2010 19:19 IST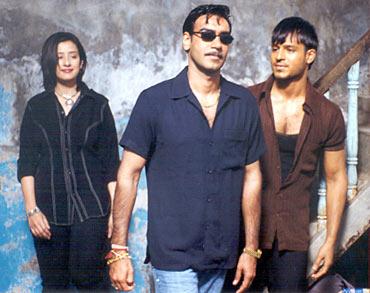 Cast: Ajay Devgn, Vivek Oberoi, Manisha Koirala, Antara Mali
Ram Gopal Varma had explored the gangland before to visceral effect in Satya, but it was with this Jaideep Sahni script that he really hit his underworld stride.
This finely plotted duel between two gangsters left us battered, bruised and craving more.
Chak De! India
Last updated on: February 3, 2010 19:19 IST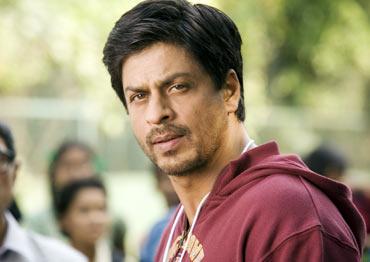 Cast: Shah Rukh Khan

It's funny how the sports-movie genre hasn't been ravaged to death in a nation as jingoistic as ours.
Director Shimit Amin hit paydirt as he took our unheralded national sport and made hockey stick sales soar with this all-girl tale of grit and gumption.
Khosla Ka Ghosla
Last updated on: February 3, 2010 19:19 IST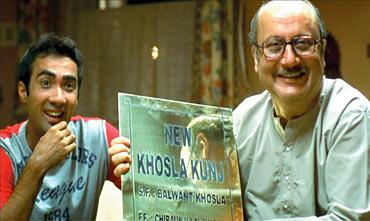 Cast: Anupam Kher, Boman Irani, Parveen Dabas, Ranvir Shorey, Tara Sharma

There's nothing quite like a perfectly pitched comedy, and director Dibakar Banerjee's first feature shows remarkable maturity and a superb middle class sensibility.
Hrishikesh Mukherjee comparisons were made instantly, and that's no small hurrah.
Johnny Gaddaar
Last updated on: February 3, 2010 19:19 IST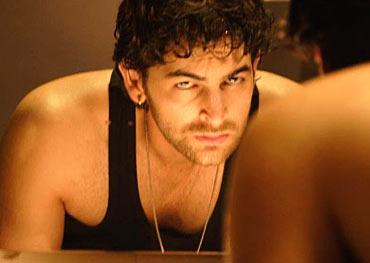 Cast: Dharmendra, Neil Nitin Mukesh, Rimi Sen
The formulaic nature of our mainstream cinema doesn't allow for much real noir, but pulp-devouring director Sriram Raghavan set up a classic tale of corpses and cash, soaked in style.
He showed the audience all the cards and let the story unravel at its own pace, the tension never slacking.