The Bollywood Tweet Diary
Last updated on: June 15, 2010 12:32 IST

A quick update on what the stars are saying in 140 characters.
She's always laughing around him. And this picture will make you laugh as well. Check out the funny guy in Deepika Padukone's life!
Meanwhile Priety Zinta is all for fitness. Sample this tweet, "Eating right is the key to fitness + exersice ! Read " Don't loose ur mind loose ur weight " by Rujuta Diwaker ! The best book on d planet !" --
As for Farhan Akhtar, he is thrilled to jump off a plane. Here's what he says: "Hola. Just back from jumping out of a plane... 50 secs freefall... then pop open the chute. What a rush! going back for more in 3 hours."
Big B's twitter invite to SRK
Last updated on: June 15, 2010 12:32 IST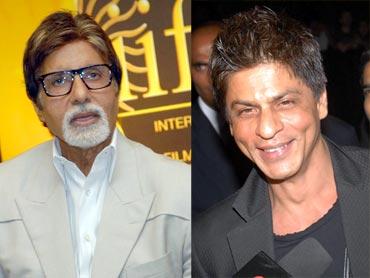 When you see stars chatting with each other on twitter, it makes you wonder, what did they do before the micro-blogging site came along!
Sr Bachchan tweets: "ShahRukh ! Believe Abhishek spoke to you about the Premier in London and you Gauri and the kids all coming.. Wonderful ! See you there!"
He tweeted earlier, "Premier of Raavan in London 16th June 7 pm at British Film Institute, South Bank. ShahRukh ! Believe Abhi spoke to you and you coming !"
To which Shah Rukh replied: "will do sir...still in india...hope i finish all work here and make it. very excited to see raavan.all the best to all & love."
Is this a perfect way to ensure all the cameras -- after all not everyday that SRK, BIG B, Jr B and Ash -- come in one frame right?
On the other hand, Salman Khan wishes Imran Khan through twitter: "Wanna c I hate lv stories , imraaaan sho na dude . Seeing promos n loving it , all the best dude , think this I a big 1 , happy fr u .sho na" and makes it the biggest PR story for this summer flick!"
To which Karan Johar -- the producer supposed to be firmly in the SRK camp -- says, "thank you salman!!! Will show it you as the copy gets out!!!"
Karan was the recipient of many thanks from Shah Rukh Khan. The super star replies to Karan, "thanx for the bag...wot would a travelling star do without it. Come to london and shoot a few shots for ra.one for luck "
Hmm, we are feeling like we are sneaking into their SMS inbox! Who needs the movies, when the stars and their twitter accounts are so exciting!
Who's funnier?
Last updated on: June 15, 2010 12:32 IST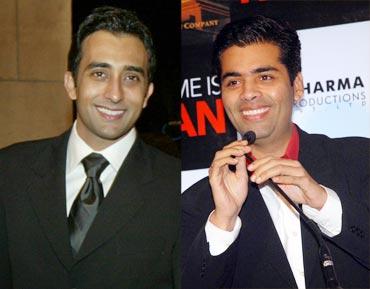 It's gotta be a toss with who's funnier!
Sample this from Rahul Khanna: "URGENT: Actor with acute STS (Sweet Tooth Syndrome) & LNC (Late Night Cravings) needs chocolate! Fridge -- empty! Shops -- closed! Pls. RT!"
Or Karan Johar: "Thrilled with the growing buzz on IHLS...the average age of the team making it is 22...I feel like I need my life insurance around them!!"
His take of SATC 2 (Sex and the City 2) is funnier: "So besides me no one else liked SATC-2....I have been advised an MRI scan by friends who have seen it...I might take them up!! Someone just asked me what I would title my autobiography...I think...SEX AND THE PITY would be apt!!!"
Darlings, you go figure this one and tell us who you think is funnier?
Blast from the past
Last updated on: June 15, 2010 12:32 IST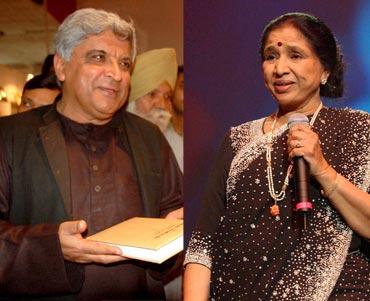 Javed Akhtar's got plans to rule the twitter verse! He joined twitter this week! He composes like a dream even in 140 characters.
Don't believe us? Check this tweet: "Meri saanson mein jiski khushbu thi. Dil ke guldan se vo gul bhi gaya. Kam se kam usko dekh lete thhe. Ab ke sailab mein vo pul bhi gaya."
Asha Bhosle gave him company too with her wit and joi de vivre! She tweets of football fever: "Football Fever: Pancham supported East Bengal Club. Mad fan of Pele & everything Brazil. I'll be supporting Brazil as always. Cha Cha Cha!".
Alternate professions!
Last updated on: June 15, 2010 12:32 IST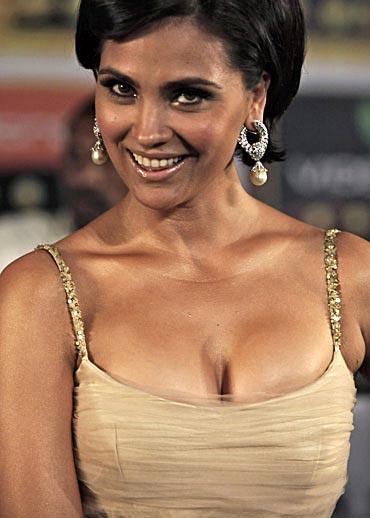 Could she make a gorgeous Chef? We don't know, but check out Shilpa Shetty with a crab for company!
Lara Dutta would make for a beautiful beach bum, don't agree? Catch this picture she clicked of her favourite beach spot!
Deepika Padukone could so make a photographer. Especially wild life. Till then check out some of her serene beauty.
Karan Johar could make for a perfect page 3 journo! After all, what would you call him after viewing this picture with the gorgeous Kareena Kapoor.  This man knows all the gorgeous gurls and gets invited to the best dos, doesn't he?
Perfect Politician. Even though Sr Bachchan may never try his hand at it, he's the only one who can balance all the Khans with ease. Here he's snapped with Aamir Khan.