Oscars 2010: Looking at the Best Director Contenders
Last updated on: March 3, 2010 13:13 IST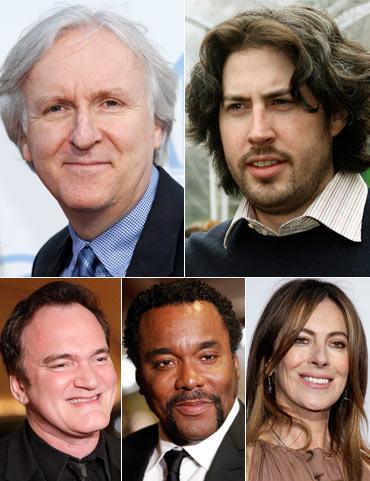 I have already discussed this category at length in my kneejerk-reaction column written in response to the Oscar nominations and it's a column about who should win, who is likely to win, and what the Oscar race is all about.
Here, we look at the fact that Best Director is a category capable of upsets (while admittedly less likely to spring a surprise than any other Oscar category) and that the race isn't over just yet. Here's a look at the five nominees hoping to pick up the much coveted Best Director Oscar.

James Cameron, Avatar
Last updated on: March 3, 2010 13:13 IST
The last time he won this award -- for his world-conquering Titanic -- Cameron took to the Oscar stage, spread his trophy-holding arms outwards, and made like Leo DiCaprio from his own film, yelling 'I'm the king of the world.'
Since then he's had a fractured relationship with Hollywood, and the media. Jim is unquestionably gifted, both in terms of foresight and fight scene choreography. And his latest film is a cinematic triumph and a global phenomenon. Yet, the director is widely considered an arrogant, brash man, one whose total lack of humility hasn't quite endeared himself to the Academy.
Avatar might still win Best Picture, but this award looks more likely to head in his ex-wife's, well, direction.
Jason Reitman, for Up In The Air
Last updated on: March 3, 2010 13:13 IST
This man is, funnily enough, the one possibility of a major upset at this year's awards, and it's foolish to think of writing him off.
Reitman's just 32, coasting on the back of two very well-received (and Oscar-nominated) films, Thank You For Smoking and Juno, and -- perhaps most importantly for an Academy obsessed with old-world Hollywood -- is the only notable director in ages with a bonafide pedigree. His father Ivan Reitman made, among other cheer-bringing films, the wonderful Ghostbusters movies, and Jason grew up on the sets.
It is the sort of thing the Academy might enjoy, giving the young heir a legitimate shot at the throne this early on. It's what will spur him on, give him massive league status instantly, and will set the stage for a major career. It's a great story, but does it beat the husband and ex-wife battle headline? And what of that man who was nominated but criminally left out for Pulp Fiction? Hmm.

Kathryn Bigelow, for The Hurt Locker
Last updated on: March 3, 2010 13:13 IST
Momentum is strictly on Kathryn's side. The striking 58-year-old is the fourth woman ever to be nominated for the Best Director Academy Award, and is, in all likelihood, the one most likely to pull off what would be a truly immense Oscar feat.
The director -- who once modeled for a Gap commercial -- has always been an action cinema person, her career including films like Blue Steel, Point Break and her last film before this recent triumph, K: 19 The Widowmaker. Yet none of these films have generated major critical buzz, even though some have been hits, and Bigelow's status has always been that of an also-ran.
This year, however, all is different. Film festival juries around the world are loving The Hurt Locker, easily the finest film to come out of the Iraq War. The film is getting great press, as is the fact that Bigelow could pip ex-husband Cameron to the post come Oscar-time. It's a great story and while Kathryn is getting some unfairly advantageous press because her film is far smaller than Avatar and because it's a war-film made by a woman, the fact remains that the buzz is all hers. This is Kathryn's moment.

Lee Daniels, for Precious: Based on the novel Push by Sapphire
Last updated on: March 3, 2010 13:13 IST
Lee's gotten far more traction as a producer than a director, but clearly his producing chops weren't earned in vain.
The first black man to have funded an Oscar winning project solo (Monster's Ball), Lee then produced The Woodsman, a film that earned Kevin Bacon major buzz. Daniels' directorial debut Shadowboxer, featured a stellar cast -- Helen Mirren, Cuba Gooding Jr, Macy Grey and the woman he's made this year's most obvious Best Supporting Actress, Mo'Nique.
However, Precious as a film has remarkably little going for it. It's an independent film that's done dramatically well at the box office, but that story seems to have triumphed last year, with Slumdog Millionaire. For now, Daniel's portly actress will win the trophy, and the rest of the film's triumph will be that it at least got nominated -- which is quite a feat for a small film with such an unwieldy title.
Quentin Tarantino, for Inglourious Basterds
Last updated on: March 3, 2010 13:13 IST
If the Oscars were a Quentin Tarantino movie, the four other nominees would have been shuffling around pleasantly in a nice little wedding chapel, shot lovingly in black and white, before this one particularly nominee -- cue extreme close ups of eyes and cowboy boots -- would stomp in and open fire. Oh yeah.
Tarantino is arguably the most distinctive major director in American cinema today, and the man has been up at bat before -- his Pulp Fiction won a screenplay Oscar but lost out in directing and film honours to Forrest Gump. But last year, he has made what may well be remembered as his most original film.
Basterds is a groundbreaking film, one that revises the rules and does it with a playful whimsy that makes us scratch our heads in awe. Tarantino uses every single one of what we have come to identify as his own cinematic clich s and does it with gobsmacking defiance, making this the audacious, history-revising film us, Hollywood and the holocaust never knew we needed.
It should be his trophy, but life isn't a Tarantino movie. Which basically means the Academy members don't have to worry about being burnt alive inside the Kodak Theatre come March 8.