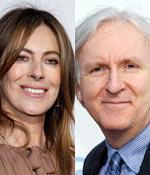 The Oscar nominations are out, and everyone is calling the Best Director category -- one of the most prestigious of all Oscar awards -- a two-horse race.
The steeds in question are Avatar director James Cameron and Hurt Locker helmer Katherine Bigelow, who happens to be Cameron's ex-wife.

The race itself now seems to be focussing on this battle of arthouse versus blockbuster, of small war film versus, well, epic anti-war film. And it can't be at all denied that the media and the Academy of Motion Picture Arts And Sciences are both intrigued by the idea of husband and ex-wife duking it out for a golden statuette in the same way less cinematic split couples would bicker over a CD collection or a couch.

Not that either of them should win, of course.

Avatar is a mammoth achievement, a triumph of the imagination and of scale. It is a film you all know I'm giddy about, the one film this generation that made us stop watching DVDs and go back to theatres to experience something we hadn't seen before. Wearing 3D glasses, to boot.
It is one of only two films among the major nominations this year that the majority of us will still speak about in twenty, thirty years time.

Which is why it should win Best Picture. Because of Cameron's vision, because of the massive manpower that went into it, because of the technology that was developed exclusively to make that film, and because the impact it will have on our cinema is immeasurable. It's genre-building.
As of today, it's reached more people around the world than any other film has, ever -- in the bloody history of big-screen cinema. It's a cinematic hurrah, not a one-man win.

As for The Hurt Locker, it's a really solid war film. It's a thriller about a bomb diffusal expert in Iraq, and it builds tension masterfully. It's nuanced and dry and fantastically taut, and by far the best film to come out of the Iraq war.
Yet I think -- and I know it's a hand-grenade, lobbing this idea out there -- that the fact Bigelow has been acclaimed so highly as the year's top director is because she's a woman making a very fine war film. Yup, most of us are being patronisingly sexist about calling this one.

It is also just another war film. Gripping, undeniably, and a film that shakes you without letting you go, Bigelow's The Hurt Locker loses out among the five Best Director nominees simply because it is one of the lesser original works. And what is filmmaking about if not sheer, madcap originality?

And originality is something the man who should win excels in. Quentin Jerome Tarantino has been around for a while now, and seventeen years after knocking our socks off with Reservoir Dogs and fifteen years after he was passed over at the Oscars despite the most influential American film of the 90s, Pulp Fiction, he's back and he's at his absolute bloody best.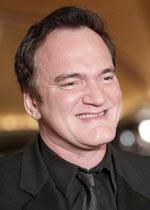 Inglourious Basterds is a whopper of a film, a marvellously imaginative knockout-punch that shatters the teeth of convention and genre. Defying traditional cinematic tropes, Tarantino sets up a war film -- clearly the genre of choice this season -- unlike any other, an audaciously, startlingly brave film that uses the power of cinema to wash over history. It's revisionist yet realistic, meticulous yet insubordinate.

It's a film with more personality than anything on the nominee list this year. And while it should pick up a trophy for it's phenomenal Original Screenplay and will certainly get one for Supporting Actor for Christoph Waltz, it deserves more to get a true bingo. Basterds is nothing if not one man's impudent vision taking over cinema, and it is the ultimate act of an auteur. This could very well be the film that defines Tarantino to future generations, and the man needs to be celebrated. Now.

32-year-old wunderkind Jason Reitman has done exceedingly well with Up In The Air, but will be placated by a trophy for Best Adapted Screenplay, while Lee Daniels' of Precious has done well but doesn't quite belong in the same league as the others. The Academy is also notorious for rewarding filmmakers and actors for their body of work instead of just their current films, which is why the newer filmmakers are likelier to be left out.

So yes, drinks are on me on March 7 if the Academy sees sense and gives Avatar Best Picture and Tarantino Best Director. The odds of that are tragically low, but I have the impossible optimism of a filmbuff. This, even after Pedro Almodovar's Broken Embraces -- the finest film of 2009, bar none -- has been left criminally out in the cold. (For my wistful, foolish take on the films that should be nominated, go here.)

The Academy'll probably give it to the wife, for showing she's man enough. Sigh. And the man who deserves it will carry on, for an auteur's work is never done.