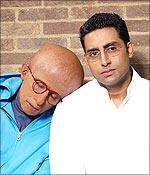 "Trendsetter... Paa will set a new benchmark in the industry in front of all the actors in Bollywood... You must watch the movie..."
This was part of a conversation I was having after watching Amitabh Bachchan-starrer Paa.
And even with my limited knowledge, I continued further. "Remember what Tom Cruise tried to do in Top Gun? The image of a cool naval aviator with a white round neck t-shirt, blue jeans and a leather jacket with Ray Ban aviator shades became a near-official wear for USA. Back in India, remember Dil Chahta Hai? The movie might have earned three or four stars but what Aamir, Saif and Akshaye portrayed was the image of the youth of modern India. The well-cut funky hairstyle, body-hugging shirts with trousers or jeans, the single strap bags -- the cool image of a person, trying to see life in every moment, the jokes, the friendships, the right way of expressing feelings... The film set the trend rolling, which can still be seen in films like Luck By Chance and Ajab Prem Ki Gazab Kahani. Look at the way such films impact our life..." I could have gone on and on.
My friend interrupted my endless talk on trends and asked me, "Was the make-up done well to show Amitabh as a 12 year old boy?"
"No, that's the beauty of the film," I answered. "They have not made him four feet tall. In fact, they have shown him taller than his mom. Amitabhji is shown in his original height. This movie can be easily converted into a play without losing its big screen charm. The whole beauty of the movie lies in the way he has acted and presented the difficult character of Auro in front of us. He has made me see the way a 12 year old thinks, talks and behaves. The minute details such as Auro's dance, expressions, eye movements and walk are perfect. The way he gives the most unexpected responses to questions and his evaluation of his father makes Auro a part of your mind."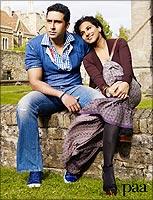 I don't usually speak so passionately about films but Paa was really something else.
I would not call the film very sentimental either. It didn't make me cry, not even the climax.
 
The story is not very complicated but the dialogues and screenplay are amazing. You may not laugh long in the film, but you will certainly laugh many times. After you come out of the theatre, you may not recollect dialogues but you will keep seeing a mind of a 12 year old in front of your eyes. Each character leaves an impression in your mind. Even the small appearance of Auro's friend Vishnu makes its mark. Director R Balki, hats off to you.
I can bet that you will remember this movie many times in future -- not for the jokes but because of Amitabh.
Amitabh has taken the film to a new height; he's shown the way a true actor can give justice to a movie. He will undoubtedly be the winner of all the Best Actor awards this year.
Go watch Paa. Everyone must watch it to see an evidence of the ultimate talent of the ultimate actor.