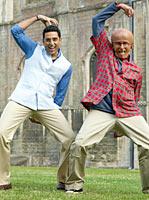 Know that warm fuzzy feeling of childhood? When your world is so fragile, it falls apart if someone fails to keep a promise but is accommodating enough to mend soon after Mom and Dad entice you with a fancy new toy or big bear hugs and gentle, loving assurances. 
When your ultimate source of amusement and imagination is a potty seat and the innumerable jokes it inspires. When you don't want your friends to see your Mom dropping you off to school because it's not a cool thing to do after junior kindergarten.
When your life's supreme worries, grievances and triumphs are shared with your best pal in a school's backyard. And it's probable that friend is quite a character like Vishnu (Pratik Katare).
Director R Balakrishnan aka Balki's Paa celebrates the purest phase of an individual with such touching simplicity; it's impossible to remain unmoved. 
What's more remarkable he doesn't brand the key protagonist into someone odd or special because of his peculiar illness. The ailment, in this case Progeria -- a medical condition which leads to premature ageing of a child, is purely incidental, it doesn't change the course of the story or influence the actions of those who surround him. 
As opposed to Aamir Khan's sensitive Taare Zameen Par, which presented some succinct points on the subject of dyslexia, Balki doesn't try to educate the viewer about Progeria's symptoms or impact. This, as it turns out, is a good thing, considering the narrative already has blobs of some unnecessary sub-plot to contend with.
School can be a tough time for the best of us. And under trying circumstances, classmates can be really cruel and thoughtless about what they say. In that sense, Balki cleverly incorporates the lesson of treating one's peer, suffering from a disability or disadvantage, with tenderness, encouragement and affection through exemplarily-behaved kids.
He also offers his 67-year-old leading man the enormous challenge of playing the 13-year old, Auro (Amitabh Bachchan). Behind the fine prosthetic make-up (Christien Tinsley, Dominie Till), it's virtually impossible to recognise Bachchan or his trademark baritone. The actor tempers his voice into an endearing wispy tone with a slight accent, almost as if an inebriated. Anthony Gonsalves was dreamily mumbling in his sleep. It's a curious description but an accurate sound.
Coming to Auro, the heart, beat, soul, spice and sweeping factor of this film, he doesn't need any warming up to. Big B's Auro wins you over the moment he makes his bouncy entry in the assembly hall to grab a prize for his 'fluke' creativity. 
A fun-loving boy with the gift of witty repartees, Auro resides with his gynecologist mother (Vidya Balan) and grandma (played with astounding realism by Arundhati Naag, he calls her Bum for obvious reasons) in a sprawling abode and indulging environment.
You can tell he's somewhat spoilt when he refuses to be picked by his politician buddy in an Ambassador. It's too small; he decides and insists on being driven in his own swanky Honda City.
For a school kid, his wisdom and sensitivity is somewhat stupefying. But Auro's straightforward conviction, hard-to-argue logic and profound inquisitiveness render it comfortable credibility.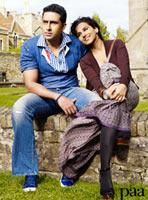 There's a droll sequence inside a Delhi metro, wherein he questions Abhishek Bachchan, essaying a bright, visionary politician -- the futility of body guards if they can't follow him till the washroom. 'What if a water-proof fly bomb jets out of a gutter making whoosh-whoosh sounds and land straight under your bum while you are sitting on the pot emptying out your stuff?' he thinks aloud. 'MP ka bomb blast,' he immediately chortles afterwards. You do too. Seriously, Auro's bubbling giggle alone is worth the price of admission.
Amitabh Bachchan's unrestrained spontaneity sparkles in every frame. At the same time, the details he brings to the same through his animated physicality, understated vulnerability and understandable petulance is nothing short of awe-inspiring.
It's a well-written role. Unfortunately, the same cannot be said about Paa himself. Abhishek's character is somewhat gawkily handled. While his interactions with Bachchan Sr are pleasant, he appears too much in awe and hesitation to convey anything else. He fares better as a charismatic and confident MP.
Even though the film's not called Maa, it easily could be. Vidya Balan slips into the skin of a doting mom with such ease without the mollycoddling tone Bollywood's young mothers often resort to. Balan is poignant yet restrained and projects an impressive figure of grace and integrity, reminiscent of Dimple Kapadia in the 1980s.
Despite its inevitable tragedy, Paa is much too busy cheering life and its gift of relationships to brood along and in the process creating a chain of blithe moments and classic quips. In one scene, Paresh Rawal's concerned father repeatedly expresses displeasure over his 34-year old son's unmarried status. One evening, after a meaningful pause, he embarrassingly quizzes, 'Amol, are you gay?'  Paresh Rawal, the man is priceless.
Exquisite performances from its lead and supporting cast, aside. Paa isn't above flaws. To begin with, the awkwardly-executed opening credits involve a self-conscious Jaya Bachchan rattling off names of the cast and crew. It may be a family thing, Paa being a home production (AB Corp), but it doesn't really work.
The romance angle between Abhishek and Vidya Balan is haphazardly established in an emotion-free flashback. It's almost as if they got together to have meaningless sex making all the post-pregnancy melodrama seem contrived. Also, Abhishek's constant diatribe against the media is exaggerated and out of context, distracting us from Auro's story, which is the focal point of Paa. If the idea is to underline Abhishek's futurist reputation, it simply backfires. It looks like a well-meaning, badly-executed gimmick at best.
While PC Sreeram's photography vividly captures the dazzling and vibrant view of Auro's moods, the jumpy editing is a serious bone of contention. It's as if a series of fragments were hurriedly stitched together.
 
Ultimately, Paa is Auro's dream and moment. And so you shed a tear in his memory and leave the hall with a fond smile on your lips, secretly doing the monkey dance in your head knowing he would have liked it.
Rediff Rating: