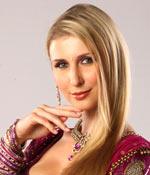 German model-actress Claudia Ciesla got along well with the housemates of Bigg Boss, especially Pravesh Rana. In fact, she left behind a hand grenade to grant immunity to Pravesh to be part of the finals.
Claudia, who featured in MR Shahjahan's Karma: Crime, Passion, Reincarnation, talks to Rajul Hegde about her time in the reality television show.
Did you expect to get evicted?
I thought Aditi (Govitrikar) or Poonam (Dhillon) will be out. I was hoping it would not be me because I wanted to stay longer. But I have no regrets. I adjusted very well inside the Bigg Boss house for 10 weeks. I didn't know how to cook at all but during my stay I learnt to cook Indian food.
Do you think your closeness to Pravesh Rana is one of the reasons for you to get evicted?
No. It was a big achievement for me to survive in the house for 10 weeks. I don't have family here nor do I have any fans here. The five housemates, who are left in the house, have family support and a fan following.
Do you think Pravesh used you to survive in the house?
I don't think so. Nothing was planned inside the house; it went with the flow. If I felt he was using me, I would have avoided him.  
What is your equation with Pravesh?
Pravesh and I are only friends, nothing else. We are comfortable with each other because we are of the same age and profession. So we had a lot in common to talk about.
What made you agree to be a part of Bigg Boss?
Bigg Boss is the best reality show in India. Plus, Mr Amitabh Bachchan was the host of the show. I had no reason to refuse the show. Thanks to Bigg Boss, I'm already getting offers to work in films.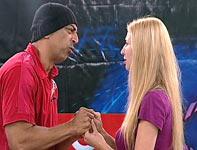 What was the toughest thing about Bigg Boss?
I wasn't allowed to speak English after a month. Once I was sent to jail for a day because I continued speaking in English. I had a hard time learning Hindi. I could not understand even if they were bitching about me on my face. I would hardly discuss things because I was not fluent in Hindi. And I feared that I would be sent to jail again if I spoke in English. That was a difficult time but somehow I managed.
What do you have to say about Kamal Khan's hunger strike for you?
Kamal was inside the house to promote himself, not win the game, the first time. All the housemates were irritated by him. I thought I would kill him. We were lucky that he was asked to leave the house. When he re-entered the house, he was not welcomed but he behaved himself. So that was fine.
Rohit Verma claimed that you don't know to sing your national anthem.
They did not teach the national anthem in my school, so I don't know the words. But that doesn't mean that I don't respect my country.
Will you stay in touch with the housemates after Bigg Boss?
Definitely! I like making new friends. Some of the housemates made mistakes but in the given situation, people tend to react in ways they normally wouldn't.
Who do you think will win Bigg Boss?
Pravesh and Vindoo have strong chances of winning. Though Vindoo was nominated five or six times, he survived in the house. It shows he has strong support from his family and fans. Pravesh entered after a month but he is playing very smartly.
Did you call your family after you came out?
Yes. I was dying to call my family so I called my mom after I came out of the house. She was disappointed when I told her that I will not be able to make it for Christmas because of work commitments.
What next?
I am hunting for an apartment in Juhu or Bandra, located I the western suburbs of Mumbai. I am taking Hindi diction classes too. As I said earlier, I have got film offers but I need to discuss them with my manager.