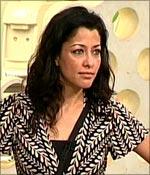 Former Mrs World Aditi Govitrikar was evicted from the Bigg Boss house, leaving behind only Poonam Dhillon, Vindoo Singh, Pravesh Rana and Bhakhtyar Irani.
Aditi talks to Rajul Hegde about her time in the house.
How was your experience?

It was an enriching experience. The biggest challenge for me was to live without my kids. I thought the journey would be easy but it wasn't. It's a psychological game, to be able to gel with people having different personalities.
Doing household work like cooking and sweeping was also a challenge.

Was it a conscious decision to just react and not initiate things?

I decided to be myself in the show. I would retaliate if someone confronts me. I will not sit back and take shit from anyone. But to generate that kind of attention is not me.
Last week, Poonam Dhillon's behaviour changed drastically towards you. She appeared very cold.

Initially, when everyone was present, I would spend most of my time with Tanaaz, Bhakhtyar and Shamita. So I did not get a chance to interact with Poonamji. But later on, we bonded well.
But yes, there were some arguments and hiccups that could have been avoided. Poonamji has played the game the way she feels is right. I think she has an equal chance of winning.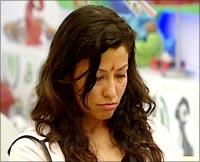 Have you forgiven Rohit Verma, who plotted and planned against the housemates including you?

Who am I to forgive him?
I was really upset with the footage shown to us because it was not pleasant. I am more upset with Rohit, as compared to Vindoo and Raju because he gave me an impression that he loved me. He used to say that I was a nice person and that he respected me. But then he plotted against everyone saying, 'Mallika ko nikalo', 'Doctor ko nikalo', 'Khiladi ko nikalo...' That was not right. He really backstabbed Tanaaz, Bhakhtyar and Claudia. Had he played the game well, he would have been in the house even now.
 
Did you feel like leaving the house at any point?

I had made up my mind that I would not cry in front of the camera. I did not want my kids to get disturbed. Nothing in the house made me cry except the time when I cried in the bathroom. But I felt like slapping people many times, especially Rohit (laughs). 
Did Pravesh entering later into the house give him an advantage?

Yes. He came after five weeks, and had seen the way in which we were playing the game. He is focused and a smart player. I wish he was there from the start.
 
Vinod Kambli was very upset when you nominated him.

Kambli is my husband's friend and we have had a casual chat whenever we've met. But in the game, we had to nominate someone giving a valid reason. And I think I did that. Later, I came to know that I was the only one who nominated him. The final decision is never in our hands; it's a game he should take it in the right spirit.

What is Vindoo like?

Vindoo is a very complicated person but pure at heart and an entertainer. He has made up his mind that he has to win so he talks to himself and to the camera. Initially, I found that disturbing because it's weird. Now, it seems that I was the only person who didn't do that. I think even sharing our feelings with plants were a burden to them. I thought they might die if I start pouring out my heart to them!
What did you gain from Bigg Boss?

I made three good friends in Tanaaz, Bhakhtyar and Shamita.
Why did you agree to be part of  Bigg Boss?

Bigg Boss is the biggest reality show in India. I thought it could give me the mileage for starting my career all over again. I have some personal issues which is forcing me to look for work now. And besides, my son is two and a half years old now.
 
Are you open to reality shows only?

Never say no to television. I had a blast doing two reality shows -- Khatron Ke Khiladi and now Bigg Boss.
Now, I am looking forward to dance reality shows and commercials. I want good character roles in films like in De Dana Dan too, where I had played Paresh Rawal's second wife.