Neeraj Vora, who has penned great films like Raju Ban Gaya Gentleman, Virasat, Badshah and Pukar, had a blockbuster on his hands when he directed Phir Hera Pheri. This Friday, he promises to tickle our funny bone with Short Kut: The Con Is On, his next directorial venture.
He talks to Nithya Ramani about his fun film starring Akshaye Khanna, Arshad Warsi and Amrita Rao, and about his long Bollywood journey.
How did films come your way?
My first film was Ketan Mehta's Holi. I also did televisions shows like Circus. Then I wrote Baazi and Rangeela.
It was my dream to become a full fledged filmmaker -- writer, producer and director. I have accomplished two of the three; I will turn producer too. But I have never assisted any director to learn direction.
During the making of Virasat, Priyadarshan and Anil Kapoor liked my work. I have been writing for Priyan since then.
How was the experience directing your last film, Phir Hera Pheri?
I lost my father during Phir Hera Pheri, so the experience was very different. Besides, direction is serious business, and I take it as clinical work.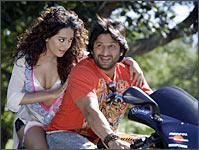 How did Short Kut happen?
The film is a remake of a Malayalam film. I rewrote the film and shared the script with Anil Kapoor.
I did not watch the original, as I don't understand Malayalam. I prefer to get the brief of the film from someone rather than misinterpret the film.
 
What is the film about?
There are times in a person's life when he is tempted to take shortcuts. Short Kut is about a person who robs a director's script and becomes a big star. There is a romantic element when the director falls in love with an established actress.
It also sends out a message that shortcuts work but the effect is never long lasting. It is always shortlived and non-satisfactory.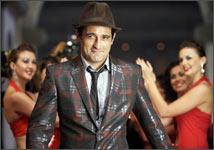 How was the experience working with Anil Kapoor? How is he as a producer?
 
Anil gives full freedom. He gives you everything you need. But he always keeps you on your toes. He is very demanding. He loves cinema and lives for cinema. He is very passionate about films. He did not come often on the sets.
How was the experience working with your cast?
I always want to get the best out of my actors. My relationship with my actors is very clinical and selfish. They are not my friends. I need my work done and my film to look good.
Arshad has a natural sense of humour and always improvises.
I roped in a lot of people from the Gujarat theatre. They weren't camera friendly, so I was a little worried. But our actors were very accommodating and friendly. They made them feel very comfortable.
There was a scene where an actor named Bakul Thakkar was supposed to hit Arshad. Obviously it was to be done without contact. But during one take, he actually hit Arshad, and I was very surprised by the way Arshad reacted. He was cool and said it was alright. He asked for another take. I was really impressed.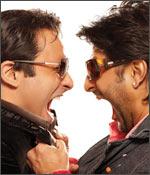 You have made Amrita Rao look very glamourous in this film.
I was after her life to look glamourous -- not because I wanted her to look glamourous but because the script demanded it. She understood and worked very hard with Manish Malhotra for the costumes. I am very weak when it comes to women's costumes.
What can you say about the film's music?
It's awesome. Javed saab (Akhtar) has penned the lyrics and has done a wonderful job in Kal Nau Baje. Bosco has choreographed the songs very well.
What next?
Run Bola Run is almost complete. The post production work is left. It is about two criminals who want to escape from jail. We are looking at a September release.