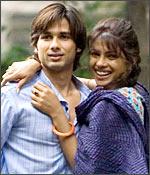 Three years after his Omkara became a formidable hit in North America with a gross exceeding $1.5 million, Vishal Bhardwaj is bringing his Kaminey to the lucrative market to heightened expectations. It could become the highest grossing film for Shahid Kapur here, perhaps even his first film to cross the $1 million mark here, doubling the box-office of each his previous successes Jab We Met and Kismat Konnection.
Kaminey is getting a fairly high release with about 90 prints in North America and 31 in the United Kingdom. In India, it gets a 900 print release.
"It is a smart film, thrilling and amusing," says the UTV chief Lokesh Dhar. UTV, which also produced the film, has hopes for a bumper opening and a long welcome depending on the word of mouth. Dhar adds: "It surely is not one of those films that open big on Friday and are on their way to collapse by Saturday evening. We expect it to be around for more than month. Younger audiences will connect to it in a big way. For the older audiences too there is plenty in it. There is an engrossing story and strong narration, catchy music and solid performances. In a way, it is the first commercial film directed by Vishal (Bhadwaj) and yet it is a classy act."
Kaminey is entering a red hot market for desi films in North America as Love Aaj Kal, the most successful film here this year, and which has beaten Rab Ne Bana Di Jodi and, Kambakkht Ishq, will be in its third week.
In fact, the Saif Ali Khan and Deepika Padukone film, Love Aaj Kal, directed by Imtiaz Ali could become the biggest hit outside India the first three quarters of the year, if not the entire year.
The film opened with $1.2 million weekend in North America, almost the double of the entire run of Ali's previous film, Jab We Met. It came down by an expected 50 percent on its second weekend, taking its gross to $2.13 million.
Kaminey could make a serious dent into its collections this week. Even then, the trade expects Love Aaj Kal to end with about $2.8 million. Distributors say that the buzz for the film had been growing for several weeks and yet hardly anyone expected a jaw dropping opening and sustained interest throughout the opening week.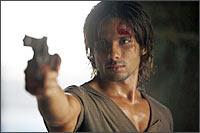 Only two films have done hit business here so far this year. Shah Rukh Khan's Rab Ne Bana Di Jodi ended its run with about $2.1 million while the Akshay Kumar starrer Kambakkht Ishq made an impressive but unspectacular $1.5 million. The biggest disappointment of the year, Akshay and Deepika starrer Chandni Chowk to China made less than $1 million.
The third hit of the year New York earned about $900,000 proving that well-made film did not have to feature top male stars to be hit. It featured John Abraham and Neil Nitin Mukesh with Katrina Kaif.
Some of the smaller films such as the Raaz: The Mystery Continues which became multiplex hits in India hardly get a decent release in North America.
The year 2009 could elevate Shahid Kapur's popularity and also give his acting career some critical heft. Next month, his Dil Bole Hadippa, which also features Rani Mukherji, will have a red carpet world premiere at the Toronto International Film Festival.