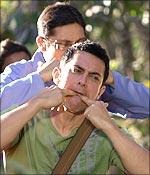 There is a section in Suketu Mehta's much celebrated and Pulitzer Prize finalist book Maximum City: Bombay Lost and Found, where the author goes at length to describe his several meetings with director and producer Vidhu Vinod Chopra. 
At one point Mehta suggests that Chopra is one person, but split into two personalities -- a thinking man's filmmaker, graduate of the Pune Film Institute, well-versed in the works of the international masters, as well as a big budget Bollywood producer, who has to make artistic compromises so that his films can become commercially successful. And Mehta concludes that people working in Bollywood are far smarter than the films they churn out.

I do not know Chopra personally nor his third-time director for hire Rajkumar Hirani. But in watching the press preview of 3 Idiots, I was drawn to Mehta's observation. 3 Idiots is the work by some very smart people -- starting with Chetan Bhagat whose best-selling novel Five Point Someone is an inspiration for the film; Hirani, who carries the critical and box office successes of the two Munnabhai films on his shoulders; Aamir Khan, who supposedly is the most astute and calculating actor of our times, Chopra's long-time writing collaborator and playwright Abhijat Joshi, who quotes Henri Cartier-Bresson in the film's programme notes; and the wonderfully talented musician Shantanu Moitra, who has done his best works for Chopra's films.
 
And there is Chopra, the film's producer -- who partly as a result of his repertoire of films -- fancies himself to be a powerhouse, similar to the Hollywood studio giants.  There was so much secret surrounding 3 Idiots that those attending the press screening in New York City were requested to sign a confidentiality agreement and were told that there was an embargo on reviews prior to the film's December 23 premiere in India. 
In fact, in what was certainly the first for a Bollywood press screening, our cell phones were taken away during the entire run of the film (all big Hollywood studios do that to curb film piracy).
3 Idiots has much promise and it holds on to that ever so often during its nearly three-hour long run. But as often happens in Bollywood, ambitious projects led with good intentions, and packaged neatly with a ton of talent and smart brains, are compromised. And so 3 Idiots is eventually a rather disappointing film, fraught with improbable situations, major tear jerking melodramatic moments, and some loud caricatured performances, especially by the otherwise very talented Boman Irani.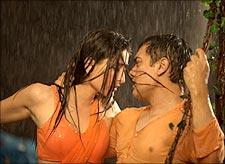 3 Idiots starts with an interesting premise -- two buddies (played with a lot of charm by R Madhavan and Sharman Joshi), who were in an engineer college together. They set out on a long car ride, first to Shimla and then all the way to Ladakh, in search of their lost friend (the very likeable Khan in a winning performance, even though the actor is challenged to play a character 20 years younger than his current age in most of the film).
Khan's Rancho is a bright, yet free-spirited student, who through his charisma is able to convince his two friends and others into thinking for themselves, following their hearts' desires, and challenging the old-school educational system emphasizing on the rote method of learning. 

In a follow-up to his character in his directorial debut, Taare Zameen Par, Khan plays Rancho with a wicked, sometime sarcastic grin and a whole lot of energy. 3 Idiots may be a wholly different project, but just as in TZP, Khan is once again set to change our social norms and beliefs. And just like in TZP, there will be people leaving 3 Idiots thinking that the film has changed their lives. 

At times 3 Idiots has its heart in the right place and an energy level that took me back to the first half of Rang De Basanti (nice coincidence that Khan, Madhavan and Joshi act in both the films). 
The songs, especially Aal Izz Well and Behti Hawa Sa Tha Woh -- the first with brimful of energy and the second calm and melodious -- are a delight to watch on the screen.  Kareena Kapoor, in a far smaller role, adds a wondrous tone to the college life part of the film.

But 3 Idiots is like the two Chopras -- the intellectual filmmaker and his box office focused personality. In the midst of all the promising, sometimes highly entertaining and well written segments in the film, there are so many 'I cannot believe this' moments. 

The film focuses on three suicides by students -- one on-screen, one attempted and the third off-screen. And each time we have to hear one of the characters mockingly say to the overbearing college principal (Boman Irani) that it is murder, not suicide. 
At the point of intermission, the story takes a twist that is so impossible to believe that it almost derails the film. There are other ridiculous dramatic moments -- from Kareena Kapoor's character walking out of her marriage ceremony, to her sister delivering a baby on the college ping pong table, as Rancho -- getting instructions on a web cam, uses a suction device attached to a vacuum cleaner to yank out the baby, and the entire college student body watches in gleeful horror. Finally, when the baby cries, the orchestra roars and every student is overcome with emotion.

The three buddies hug, cry, kiss each other on cheeks and pull down their pants one too many times. But I think all of this bodes well for the personality of 3 Idiots that is hoping for a big box office success.

Rediff Rating: