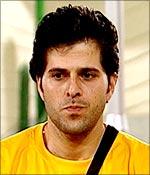 In a new twist to Bigg Boss, its housemates were offered Rs 10 lakh to quit the reality show earlier this week. While Poonam Dillon, Vindoo Singh and Pravesh Rana refused the money, Bhakhtyar Irani decided to take it and walk out.
Before leaving, he shed one last tear and said that it was just not his destiny to win a reality show.
Bhakhtyar talks to Rajul Hegde about his time in the house.
What was the first thing you did after coming out of the house?
I was in a secret room until the episode was aired. I met Amitabh Bachchan for the Akree Salaam and then went home. I woke my son up at 1.45 am and played with him till 3 am.
Don't you think you broke the hearts of your fans by opting to leave the show?
I apologise to all the fans, who voted for me. I request them to respect my decision because nothing is pre-planned.
I didn't appreciate what I had done to my wife (Tanaaz Irani) after watching the video clips. When I saw the video where my wife cried because of my behavior, I realised I should go. I was shattered and lost confidence to be in the finals.
When I was given this opportunity by Bigg Boss, I evaluated the pros and cons and decided leaving was better. I had bright chances of winning but I didn't want to be one of the people, clapping for the winner. 
Why do you cry all the time? Are you like this in real life too?
Yes. I am an emotional person, just like you saw. Certain things upset me. People saw my aggressive side on the show too. But now, I want to do shows where I can show off my positive side.
What will you do with the Rs 10 lakh?
I have not decided yet.
How difficult was it to showcase your private life for the public?
I shouldn't have shouted at my wife. That was not needed. A sorry is not worth a crore. I know one contender had to win.
I decided to go on the show thinking that normal people would there because Mr Bachchan is the host. I didn't know that insane people like Kamal Khan and Vindoo Singh would fight over spilt milk. 
Your fights with Tanaaz looked scripted.
Bigg Boss is not scripted. How can anyone's emotions be scripted? And if it scripted, how can I say bad words to my wife?  If I were offered Rs 1 crore in the beginning of the show and asked to use bad words against my wife, I would have slapped that person. I will not stoop to that level for TRP's. 
Who do you think deserved to win Bigg Boss, among Tanaaz and your friends Shamita Shetty and Aditi Govitrikar?
Tanaaz. I am not saying this because she is my wife. I don't think Aditi could have created the impact Tanaaz created in six weeks, in 11 weeks. Shamita was in the house for five weeks but I don't think she would have made her presence felt even if she was locked in the house for four months. They didn't add anything to the show.
But I must say that they were the most genuine people in the house. They played safe because they didn't want to get into any kind of controversy. 
There were reports that after Bigg Boss, Tanaaz and you would head for a divorce.
Nobody can separate us. Neither reality shows nor any person can rule our life.
Describe the housemates in one word:
Kamal Khan: Moron
Vindoo: Dumb, dumber
Poonam Dhillon: Shrewd
Shamita Shetty: Smart
Aditi Govitrikar: Strong, confident
Tanaaz: Vibrant
Rohit Verma: A*****e
Ismail Darbar: Bigger one than Rohit
Jaya Sawant: Don't know her well
Sherlyn Chopra: Weak, she was in wrong company
Pravesh Rana: Good planner
Claudia: Doesn't matter