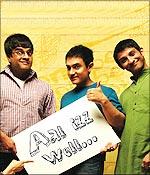 In Rajkumar Hirani's latest film, a character steps to a blackboard and chalks up, for the benefit of a befuddled engineering college classroomful of students, the word 'Farhanitrate,' daring them to tell him what it means.
The word is a pun on the character's best friend, Farhan, and while it may be a non-existant gag word in the film, the compound seems to exist in real life -- Hirani's film is doused liberally with Farhanitrate (in an Akhtar sense of the word) and several other directorial scents -- including Hirani's own touch, which is why by the time the end credits eventually roll around, you have a 'been there, sniffed that' feeling about it all.
There's also a tragic, overriding feeling of futility. Why, you ask yourself, does a college film have to be made with middle-aged men playing the lead? Can we not trust younger actors to deliver, or has the insecurity of the star system blinded us to all reality?
Why must Aamir Khan, a man who told us of the last day of college 21 years ago, still play a fresh-faced student? He does adequately, and is impressively bereft of age-lines, but we really have seen it all before. For the actor, it's probably yet another disguise, that of the young man. But it's a role he can do in his sleep.
Ditto for Hirani and his partner in wordplay, Abhijat Joshi. 3 Idiots is a very average bit of fluffy Bollywood masala that tragically pretends, at times, to be making a profound point, one it loses in repetition. The result is a confused film, one that doesn't know exactly where it stands, torn between lump-in-the-throat filmmaking and amateurishly written juvenilia. There are a few moments which click, but coming from the duo that created the finest film this decade, this is a massive letdown.
This is a film, as you have gleaned from the inescapably omnipresent publicity material, about three students in an engineering college. Yes, indeed. And while it borrows its principal cast from Rang De Basanti and a vibe from younger-voiced filmmakers like Nagesh Kukunoor and Akhtar, it never quite gets going. It sorely lacks that magic touch, that trademark broadstroke of Hirani sincerity. That lick of good ol' honest filmmaking is enough to gloss over many an underwritten scene or overwritten soliloquy, but this film remains washed up, without that all-absolving coat of paint.
Anyway, back to the story. Aamir, Sharman Joshi and a portly R Madhavan are students in an engineering college run by Boman Irani, the actor reduced to a caricature so unreal that shaving his cartoon moustache takes away even Irani's ability to keep a straight face through the farce. And what a stretch this farce is, as Hirani plays out his now-familiar tropes: college ragging with pants dropping down; cheering up a paralysed patient; and a short fellow given a length-deriding nickname. Stats are thrown in about college pressure and suicide rates, and they really don't fit into the narrative.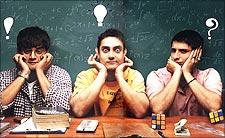 Nothing quite does, to be fair. There is ludicrous fun to be had every now and again but Hirani seems ill at ease, borrowing a Farah Khan-style old school flashback but refusing to go all-out funny -- and instead labouring really hard to make a point, the aforementioned one about college and suicide. I repeat it because he does, and he does it over and over again.
The film really tries too hard. A wonderfully endearing character named Millimeter shows off a group of pups, calling the little one Kilobyte and the bigger one Megabyte, and there is a pause before he calls the mother Gigabyte. Sigh. The principal is called Virus. It's an engineering college, get it? And so the jokes groan on, far more obvious than any of us Hiraniphiles would have liked -- even as the dramatic twists and reveals emerge inadvertently funnier than the gags.
The cast is strictly okay, nobody really sparkling except for Millimeter and the girl, who isn't around much, darn it. Kareena Kapoor dazzles with her brief role, and even though a lot of her spunk seems significantly Jab We Met in tone, she lights up the screen when she's around. Aamir manages to sell some scenes strongly enough to make you laugh, while Madhavan proves to be a really bad choice for narrator.
This isn't a bad film, though. By which I mean it conjures up a few moments, it will doubtless make some people cry, and every now and then we glimpse some heart. Yet it hurts to see that this is traditional Bollywood masala schlock, with scenes calculated to tickle and to evoke sympathy. It's not awful at all, but since when did 'not bad' become good? Dr Feelgood doesn't make the cut this time, and we need to measure him by the high bar his previous excellence has set -- by which degree this is a whopper of a disappointment.
Rajkumar Hirani's one of the directors of the decade, a man with immense talent and a knack for storytelling. On his debut, he hit a hundred. With his second, he hit a triple century. This time, he fishes outside the offstump, tries to play shots borrowed from other batters, and hits and misses to provide a patchy, 32*-type innings. It's okay, boss, *chalta hai*. Even Sachin has an off day, and we still have great hope.
Rediff Rating: