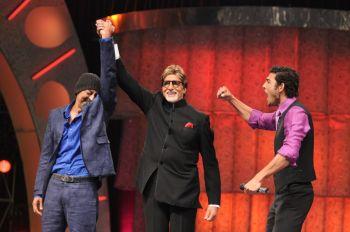 Vindu Singh, son of legendary wrestler and actor Dara Singh, won the reality television show Bigg Boss season 3 over 14 other participants at a glittering three-hour finale on Saturday.
Celebrity host and Bollywood biggie Amitabh Bachchan announced the winner, who won a prize money of Rs 1 crore.
Viewers voted Vindu as the winner over yesteryear heartthrob Poonam Dhillon and wildcard entry and model Parvesh Rana. Both Vindoo and Poonam had spent a grueling 84 days in the Bigg Boss House, while Pravesh entered the house mid-way.
Poonam was the first to be eliminated on Saturday night among the final three, while Parvesh and Vindu were taken onstage leading to a nail-biting finish.
The finale was attended by the previously eliminated housemates, who come onstage one final time and opened their hearts out to Bachchan.
An ecstatic Vindu was accompanied by his wife and child on stage as he beamed with the trophy and suitcase filled with the prize money in hand.
"We all had left behind our families and peaceful lives outside to enter the Bigg Boss house. Although we were competing in a game, we lived like a complete family filled with unique characters and had moments of joy, sorrow and anger. It was indeed another life, a novel experience and we all gained a lot from it. I am extremely delighted in having been chosen the winner. It is a humbling experience, All I can say is thank you for liking me enough to make me a winner," Vindu said after the win.
Image: Bollywood superstar and Bigg Boss achor Amitabh Bachchan declares Vindu as the winner