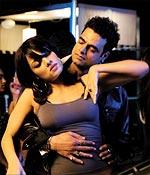 It's not easy making films. Telling a story convincingly and interestingly is a job that some directors manage with ease, and others don't.
First-time director Mahesh Nair falls into the latter category. His film Accident On Hill Road is a terrible excuse for a film.
It makes you wonder what he was thinking while making it.
He calls the film a thriller but really, there are no thrills in this Celina Jaitley-starrer.
As the title suggests, the film is about an accident on Mumbai's famous Hill Road in Bandra, a western suburb. Except that it looks like anything but Mumbai's famous Hill Road! Hill Road, for those who don't know, is one of the busiest shopping venues in the city but the one depicted in the film is absolutely deserted. The street is lined with bungalows, not shops.
The story goes like this: Celina's Sonam is a nurse, who gets a chance to work for the Red Cross in London. She celebrates that night with drinks and drugs, but on her drive back home, she meets with an accident. Her car runs over Farooque Sheikh's character, and he gets stuck alive in her car's windshield.
Surprisingly, she continues with her life normally, even with Farooque still stuck in her car -- she makes love to her boyfriend (Abhimanyu Singh) and goes to work the next day.
How the lives of these three characters shape up form the rest of the film.
Not that there's suspense there but I would not recommend this film to you to find out what happens next.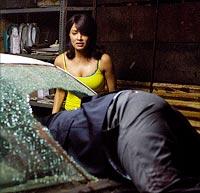 I've never seen a nurse wearing spaghetti tops to work. But of course, that's the only thing Celina does best since she has still not learnt to act.
Abhimanyu Singh, playing a drug dealer and a self-proclaimed don, does not have much to do. All he does is sleep around with women and then try to hide his escapades from his girlfriend Celina. He showed off a brilliant performance in Anurag Kashyap's Gulaal, so I wouldn't blame him for his work here -- the director is at fault, not Abhimanyu.
I don't understand what attracted Farooque Sheikh to a film like this. He's given us such memorable films in his career, why would he want to be associated with projects like this? His character seems to be immortal. No matter how many times there have been attempts to kill him, his character just never dies!
Unnecessary songs and steamy scenes, and terrible dialogues worsens the film.
Take my advice: don't bother watching Accident On Hill Road. It's not even worth a star rating.
To become Celina's fan click here