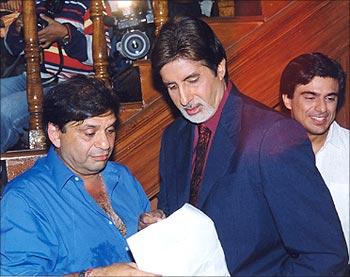 From a tall, lanky man whom no filmmaker would touch to one of the biggest stars in the Hindi film industry, Amitabh Bachchan has come a long way.
The actor has starred in some of the biggest blockbusters, played a fantastic variety of roles and has become the face of Bollywood overseas.
On November 7, the superstar completes 40 years in Bollywood, and it's time for the industry to give back.
We start our special series with director Ravi Chopra, who started his own career with the Big B:
The first time I met Amitabh Bachchan was during the shooting of Zameer (which released in 1975). No one knew that he would make it this big in those days. Things just fell in place for him and today, he is the legend we know and are proud of.
He has always given me a sense of comfort. He is very dedicated, and that shows in this work. He prepares for the scene thoroughly so that there is no place for mistakes.
He is the only person who can call me after 10 pm. He is a very lovely person by nature, very principled and a great friend. We've been in constant touch.
I directed him in Baghban and Baabul too. After that, we worked together in Bhootnath, which I produced. I am working with him in Pocket Maar next. The film revolves around a crime.
Amitabh can do just about anything he is asked to and it will suit him. Since he had always played the Angry Young Man role, people thought he might not suit the role of a family man in Baghban. They suggested that I take someone else for his role. But I was sure that he would do justice to the role. I knew he would be the only one who can play a character like that and make everybody cry.
I remember an incident during the shooting of the climax of Baghban. There was an 11-minute dialogue that he had to say. He shocked us all by delivering his dialogue in a single take. We were surprised to see the kind of dedication he had. The kind of performance he gave was heart-warming. He had prepared his lines so well that he didn't need a second take to get it right.
The best way to describe Amitabh Bachchan in a line is: He is like old wine, always gets better with age.
He is completing 40 years in the industry but it seems we can't get enough of Amitabh Bachchan. I wish him 80 more years in the industry. We cannot afford to lose him. I will want and wish that he can act as long as he can.