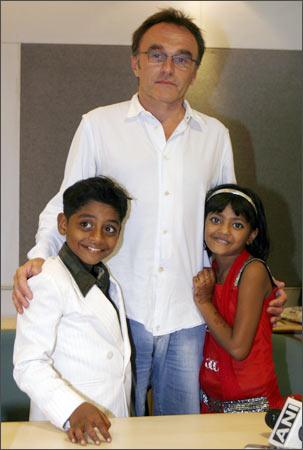 Slumdog Millionaire director Danny Boyle has warned child stars Azharuddin Ismail and Rubina Ali that their trust fund would be axed if they don't attend school regularly.
The Oscar winning director had to fly down to India to warn the children's parents to stop demanding flash homes and cars.
However, the guardians insisted that a 31,000-pound lump sum each got to quit Mumbai's slums was not enough for houses with pools.
Boyle told the families to ensure the pair attends classes or face losing any more cash.
'Danny has said that if they don't agree by January the money will be given to other charities,' the Sun quoted Trust spokesman Noshir Dadrawala as saying.
Image: Danny Boyle with Azharuddin Ismail and Rubina Ali.
Photograph: Punit Paranjpe/Reuters