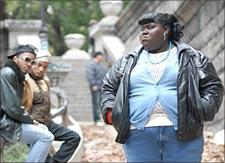 Over a decade ago, Oprah Winfrey produced and starred in a much admired film version of the Toni Morrison novel Beloved but the film bombed at the box-office.
Now, Oprah has given her blessings to Precious, a grim but in the final reckoning a uplifting story. And like The Color Purple, the hit Broadway musical she produced two years ago, Precious could be a sleeping hit, gaining momentum at the box office week by week and finally emerging as a solid hit.
It is emotionally stirring, solidly acted, and despite being a harrowing tale, offers many tender moments. There are enough smiles in the film to overcome the abuse and cruelty suffered by its protagonist.
The film opens in about a dozen cities in America, just the way Slumdog Millionaire did, and add more cities and screens week by week.
It centres on a16-year-old black girl in Harlem, New York  who is impregnated twice by her father, continually abused by her mother but whose life begins to change thanks to a teacher. Oprah decided to lend her name to the film after it received standing ovation at Sundance where it won both the Audience Award and the Jury Award. It took Oprah some time to realise the film's worth. Once she decided to lend her name to it,  she came to the Toronto International Film Festival in September to promote it.
At Toronto, many people compared the film to Slumdog Millionaire, saying that while it is gritty and dark, Precious, also had a heart, and was an audience pleaser.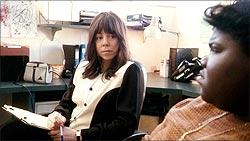 The film's director Lee Daniels admitted in Toronto that at times he had wondered if the film, which many thought could alienate the audiences because some of it was really bleak and horrifying, would have a theatrical release at all. There were fears that it would go straight  the DVD market 
But Sundance changed the film's course and Toronto changed the world for it.
The film has created a lot of Oscar buzz too. Surely a lot depends on how the audiences will react to the film. The trade publication The Hollywood Reporter believes the film, which made the cover of The New York Times magazine two weeks ago, is going to be a hit.
'The film's crystalline performances, including a bravura performance from Mo'Nique, should propel word-of-mouth,' it wrote of the movie that cost $10 million. By Hollywood standard, Precious is indeed a low budget film  If it grosses $20 million, it will break even; the DVD and other ancillary sales will help recoup some $20 million spent on promoting it and guide it into profit.
Mo'Nique, a stand up comic,  plays the mother while the newcomer Gabourey Sidibe plays Precious Jones, an overweight and emotionally wrecked girl whose life begains to change slowly thanks to a charismatic teacher called Blu Rain (Paula Patton).
While she seeks to improve her grades, Precious is also using fantasies to get away from her bleak life. She thinks of herself as a blonde beauty queen; at times she fancies she is a star walking on a red carpet
She has been walking on the red carpet many times after the film, whose full title is Precious: Based on the Novel Push  by Sapphire, opened at Sundance. Last week the film premiered in Hollywood, and coming Friday it will be playing across the nation.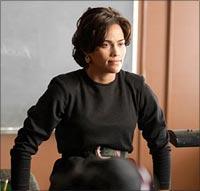 In a film in which every artist including Mariah Carey who has a small role is engaging, two artists stand out, and it is their work that will help make this film a must-see event.
As Precious, Sidibe allows us to feel the inner warmth and beauty of a young woman who is at once ungainly -- and even repulsive. As her cruel mother, Mo'Nique essays her role without making it distastefully melodramatic. It's an chilling and powerful performance which will be remembered for a long time.
Sidibe, 26, a first time actor who got the part after attending an open call casting, recalled in Hollywood last week  an audience with Oprah..
'Unfortunately, I forgot everything about it,' Sidibe said. 'It's so weird, because she's such a big deal to me, that when she speaks, I don't hear anything. It's like it's so weird. It's like hysterical blindness in a way. All I can remember is her saying my name over and over, and that can't be right.'
The film which has also played at the London Film Festival was shown at Cannes' Un Certain Regard.
'In Cannes, we got an insanely long standing ovation,' Sidibe told indieWIRE. 'It was amazing. It was such an honour considering they don't always stand up, and it was a surprise because this is such an American film. We weren't sure if the translation would work.'
Mo'Nique said in Hollywood last week that she did not hesitate to take up the film even though she was playing an abusive mother. 'I got a phone call from Mr. Daniels, and he said, 'I've got something that might mess up your career.' I said, 'Sign me up,' she said.