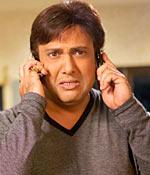 If David Dhawan and Govinda come together in a film, you can be sure of some non-stop entertainment. After all, they have rained down hits like Coolie No 1, Hero No 1, Deewana Mastana and Partner.
Unfortunately, Do Knot Disturb falls way short of expectations and you start wondering if the director has lost his magic touch.
The trouble with the film is its story. It's so weak that one cannot expect the actors to do their comic act and keep the audiences entertained.
Govinda plays a rich businessman, whose interest is only to take care of his mistress Dolly (Lara Dutta) rather than do any work. He runs his wife's (played by Sushmita Sen) business, who guesses that her husband is cheating on her. She hires a detective (Ranvir Shorey) to catch her husband in the act.
Govinda outsmarts her by getting Ritesh Deshmukh to act as Lara's boyfriend, so that his wife rests her fears.
The problem arises when Govinda starts doubting Ritesh's intentions. Much else unfolds on screen but you're bored stiff by now.
Rajpal Yadav and Sohail Khan try to make the plot interesting but they fail as the story goes nowhere. The dialogues are loud and repetitive.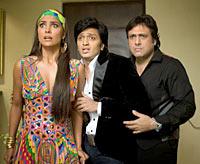 Lara Dutta fails to impress and Sushmita Sen has put on oodles of weight. Hello, just because you're playing a housewife doesn't mean you have to put on so much weight!
Govinda and Ritesh do well but the script fails them.
Music director Nadeem-Shravan return after a long time but they have come up with only one good song called Bebo.
The film has some good one-liners but that is not what you expect from a David Dhawan film. Do Knot Disturb yourself this weekend on this film.
Rediff Rating: