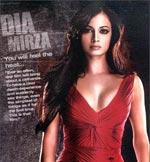 The secret to this action thriller is a whole lot of gas.
No offence, but gas, and a deadly one at that, does play a significant part in this film. It temporarily wipes out the memories of the people exposed to it. At the end of the agonising experience called Acid Factory, you wish you inhaled some of it too. 
Six people trapped inside an acid factory have lost their memory – and the next 90 minutes tell you how they walk around the place in painfully slow strides, jump on each other, mouth profanities and wait for the one guy who seems to have set them up.
In between, a lot of battered cars get blown up, a lot of cigarettes are lit, a lot of blood is spilt and an obligatory nightclub sequence shows off the assets of crooner Manasi Scott and Vida Samadzai (who was Miss Afghanistan eons ago).
 
Acid Factory features some Sanjay Gupta staples -- men in black, women in high heels, bikes, cars and an industrial setting. As an added bonus you get some stylish opening credits, edgier, cooler than what follows.    
The film seems to be a wish-fulfilment of sorts for many people. Fardeen Khan gets to show off his shades and aviator jackets. Dino Morea gets to look like Johnny Depp. Aftab Shivdasani gets to bash up a few people. Manoj Bajpai gets to display some high-pitched histrionics. Danny gets a film and Dia Mirza gets to dress up like Lara Croft and fire a gun. Meanwhile Irrfan Khan, lucky guy, gets a limousine and kisses a girl. Twice, in slow motion.  
And they all get to blows, and scream -- 'I will kill you' -- every now and then.
 
In the spirit of action thrillers, some questions are left intentionally unresolved, others not so – like how did Manoj Bajpai's ugly wound heal so miraculously post intermission? Or how does Aftab's wife walk past the security check at the airport without a ticket and only a bagful of money, and land up right near the conveyor belt?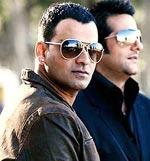 Acid Factory aspires to be a slick, cutting edge action-suspense-thriller. The kind of films many boys swear by -- you know with guns and gore, bikes and babes. But the appeal of such films hinge on the stunning action sequences, slick editing, crisp dialogues and a thread of mystery that ends with a well-executed climax.
You know where director Suparn Verma is coming from. But you don't know where he's headed.
 
Poor dialogues, done-to-death action sequences, and an amateurishly handled climax kill what could have been a promising film. And the relentless hammering of the background score and sound design will grind you to a pulp.
Some of the most ridiculous lines seem reserved for Gulshan Grover, who commands a malnourished team of extras masquerading as cops. In true 70s' style he is outwitted by Irrfan repeatedly and manages to land up at the scene of crime only after it is all over, sirens blazing, victim's pretty wife in his car. You almost expect Fardeen to say, "Inspector saab inko arrest kar lijiye!"        
 
If you've never heard of a Columbian film called Unknown, you haven't really missed much. If you give this 95-minute copy of the poorly-received film a miss, you'll do yourself a favour.
Rediff Rating: